Our online accounts contain lots of private information—from bank account numbers, to personal addresses, and birthdates. So it's important to create secure passwords to help protect yourself from fraudsters and keep your mind at ease. 
Use these tips to create strong passwords that will help keep your accounts and personal information safe.
Tip 1: Make your passwords complex 
When it comes to passwords, the more complex they are, the better. Passwords should be longer than eight characters and contain a variety of letters (both uppercase and lowercase), numbers, and special characters to make them much harder to guess. Avoid easily guessed details from your life, like your kids' names, pets' names, your birthday, where you're from, etc.
Don't follow the crowd. These are the top 5 most common passwords.
123456
password
12345
123456789
abc123
Source "Are We Still Lazy With Our Passwords?
The 2021 top 200 Most Common Passwords List Is Here" NordPass, November, 2021
Tip 2: Don't recycle passwords
Every online account should have its own totally unique, complex password. This means "Fido1" and "Fido2" wouldn't be the most secure options. Reusing passwords or only changing one small part can make it easier for a hacker to access multiple accounts.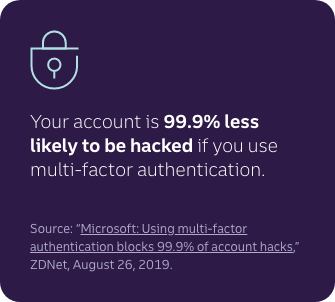 Password managers can take the guess-work out of password security by automatically generating and storing all of your passwords in single, secure app. Password managers can work across all of your devices—making it easy to sign into your accounts whether you're on your phone, computer, or tablet. 
Tip 3: Use a password manager
Tip 4: Turn on multi-factor authentication
Multi-factor authentication (MFA) adds an extra layer of protection by requiring additional verification information when you're signing in. An example of MFA could be a site requesting a one-time passcode sent to your phone or maybe asking you to answer a personal security question. 
Tip 5: Make sure your current passwords are safe
Tools like Mozilla's Firefox Monitor, Google's Password Checkup, or Have I Been Pwned can show you which of your email addresses and passwords have been compromised, so you can know which passwords to update first. And if you ever get an alert of a data breach from any of your online accounts, make sure you update your password right away.
Now that you've created strong passwords, it's important to keep them safe. If you're ever contacted and asked for personal information, verify the request before sharing anything. Most organizations, including Truist, will never contact you to ask for your password. Keep an eye out for phishing attempts like suspicious email links or websites asking for your passwords or personal information that could be used to guess passwords.
Tip 6: Protect your passwords
have tried to guess someone else's password
Has your password been compromised? Here's what to do:
Change your password immediately. Use the tips above to create a secure and unique password. If you're locked out of your account, contact the company's customer service or reset your password using the "forgot password" option.
Assess your other accounts. If you're using the compromised password on other accounts, change those right away, too.
Keep an eye on your financial accounts and credit activity. Even if the stolen password wasn't for a financial account, a fraudster could gain access to sensitive information like credit and debit card numbers that could be used to make fraudulent purchases. Monitor your financial accounts and credit reports and report any suspicious activity.
If you believe your account security has been compromised or have any concerns, call us immediately at 844-4TRUIST (844-487-8478).
Learn more about how Truist protects your accounts and get more helpful tips on steps you can take to protect yourself from fraudsters.