Google searches for "housing market crash" were at an all-time high in 2021.1 And that curiosity is actually a good thing, says Brian Ford, head of financial wellness at Truist. He encourages consumers to ask questions, especially from those they respect. "People need to take ownership for their own finances."
As a mortgage lender, you're probably getting lots of questions from potential homebuyers. Here are five common questions, with simple but effective answers that can build trust and help your clients make informed decisions.
1. What is a housing market bubble anyway?
Sure, you know this—but your clients might not. A housing bubble occurs when homes are consistently selling for more than market value. The bubble bursts when their value suddenly drops. This can leave homeowners owing more than their property is worth—a worrisome prospect that makes people understandably nervous about taking on a mortgage.2
2. When is the housing market bubble going to burst?
Most real estate experts say we're not actually in a housing market bubble—and so a crash is unlikely. What we're seeing is a good old-fashioned lack of supply.
As of April 2021, there were 54% fewer homes for sale than there were during that week the prior year. This was due to a slowdown in building and an influx of families moving from cities to greener pastures—both a result of the 2020 pandemic.3 Homes are only overvalued by about 5.5%, so even if the market cools down, it won't crash.4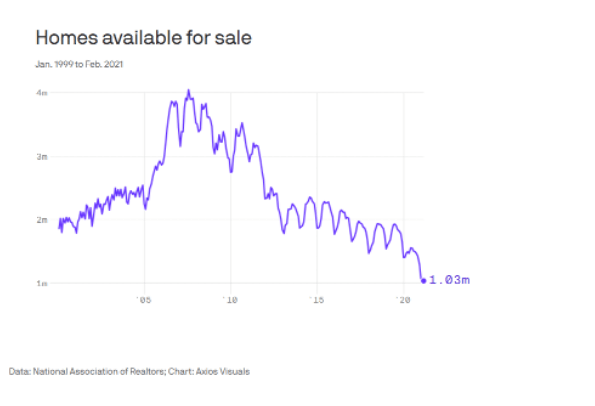 4. How do I know if it's a good time to buy?
That depends on a number of factors, including financial resources, life goals, and how long homebuyers plan to stay in the home. If it's less than five years, it may be difficult to recoup closing costs, as a drop in value may affect their profit when it's time to sell.6
Potential homebuyers need to also evaluate the interest rate. Interest rates are low right now, and we don't know when that will change or by how much. Even if interest rates go up by a half-percent on a $300,0000 home mortgage, the monthly payment increase may be less than $100.7
Ultimately, it's important for homebuyers to consider all factors to determine whether they're in a good position to buy.
5. What should I do to be in the best position to buy?
Since lenders need to be more selective about loan approvals, your clients may need a higher credit score and bigger down payment to get the mortgage they need. They should know lenders are double- or triple-checking employment status—including a final review on closing day. This is widespread and common, so buyers should be prepared for the extra step.8
Remind clients that there are two simple things they can do to improve their eligibility:
Check their credit report and make sure it's accurate. If not, they should challenge it. Buyers can get a free copy from TransUnion, Equifax, and Experian once per year without affecting their credit score.
When lenders ask for paperwork, turn it in ASAP. If not, they should challenge it. Buyers can get bogged down in the details, but with so much competition, they need to be the first one to the negotiation table.8
Navigating the loan approvals process is challenging in any market climate. By providing the right guidance at the right time, you can help your clients understand the reality of homebuying today—without bursting their bubble when it comes to purchasing their new home.