To further explore the financial operations of not-for-profit organizations and the regulations governing them, let's take a more in-depth look at the prudent management of investment assets, the dynamics facing finance and investment committees, and how investment committee members can directly and positively impact not-for-profit governance.
Duties of the not-for-profit board according to UPMIFA
The Uniform Prudent Management of Institutional Funds Act (UPMIFA) is the nations' most comprehensive guidance for the management, investment, and expenditure of endowment funds from charitable institutions. Originally enacted in 1972, the most recent revision of the Act was adopted in 2006 by the National Conference of Commissioners on Uniform State Laws. To date, all states except Pennsylvania have adopted the guidelines. Generally, any organization that operates solely for charitable purposes is covered by UPMIFA—including not-for-profits, charitable trusts, and government entities holding funds for charitable purposes.
There are several key standards of conduct for managing and investing endowments.
Organizations need to understand their cost to invest and current economic conditions
Board members must make investment decisions aligned with the organization's overall portfolio and long-term needs
Board members should also review return targets and ensure the organization is taking on an appropriate level of risk.
Documents like an Investment Policy, a Spending Policy, and a Gift Acceptance Policy can help you institutionalize many of the key UPMIFA requirements. Make sure you consult your state's version of UPMIFA to determine the key governance factors to consider when overseeing endowments. In particular, you must have an understanding of the purpose, duration, and return expectations for the endowment funds—factors which can then be codified in your organization's Investment Policy Statement and used as a compass for prudent investment management.
Exhibit 1 - Key Standards of Conduct for Managing and Investing Endowment According to UPMIFA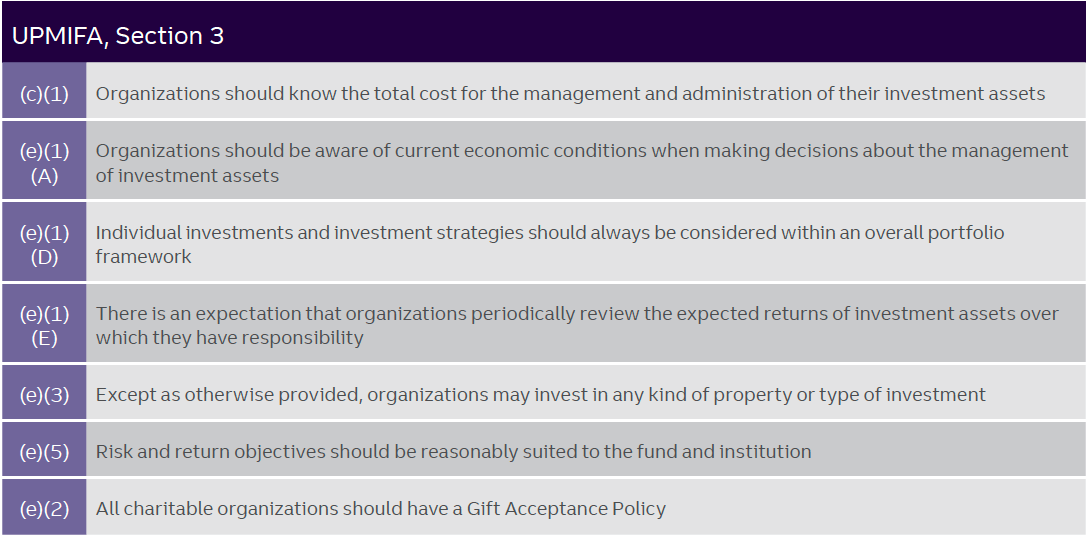 Duties of finance and investment committee members
While the fiduciary duty to govern a charitable organization lies with the entire board, the finance and investment committees have a unique set of responsibilities to help ensure the long-term sustainability of the organization.
The Committee should:
Prepare financial statements
Oversee disbursements and monitor donation receipts
Annually review and affirm finance policies (specifically the Investment Policy Statement)
Advise the full board on financial matters and strategy
Routinely meet with outside investment advisors or consultants
Coordinate as needed with other finance-related committees, like the audit committee
Of course, teamwork is vital to the success of a high-performing finance and investment committee; this requires collaboration not only with committee members but with organization staff as well.
Exhibit 2 - Top 7 Responsibilities of a Not-for-Profit Finance and Investment Committee
1 Oversees preparation of the annual and interim
2 Oversees administration, collection, and disbursement of the organization's financial resources as well as related policies and procedures
3 Advises the board when making significant financial decision
4 Oversees the preparation and implementation of governance policies referenced in the Form 990: conflict of interest, document retention, whistleblower, executive compensation, etc.
5 Ensures that joint membership between the audit and the finance committee meets local laws and regulations
6 Provides strategic guidance about what can be done to increase effectiveness and efficiency of financial management activities
7 Anticipates financial problems and solutions
Duties of individual board members
What can you as an individual board member do to positively contribute to the overall governance and financial health of the board you serve? Strive to:
Become involved in the strategic planning process for your not-for-profit and ensure the finance and investment perspective is integrated into the organization's approach
Encourage a diversity of thoughts and opinions by bringing new and exciting voices to the decision-making table
Ensure investment guidelines are in line with your organization's goals and spending needs
Define investment success and measure performance routinely
Insist on an annual review of the organization's Investment Policy Statements to ensure full board understanding
Although the fiduciary duties of not-for-profit board members are vast and somewhat complex, the policies and guidelines reviewed above can provide a roadmap to ensure that every board member understands their critical fiduciary duties.
About Truist Foundations and Endowments Specialty Practice
Truist has more than a century of experience working with not-for-profit organizations. Fiduciary stewardship is the heart of our culture. We're not just a provider, but an invested partner—sharing responsibility for prudent management of not-for-profit assets. Our client commitment, not-for-profit experience, and fiduciary culture are significant advantages for our clients and set us apart. The Foundations and Endowments Specialty Practice works exclusively with not-for- profit organizations. Our institutional teams include professionals with extensive not-for-profit expertise. These professionals are actively engaged in the not-for profit community and are able to share best practices that are meaningful to their clients. Team members offer guidance and advice tailored to the various subsets of the not-for-profit community, including trade associations and membership organizations. Our Practice delivers comprehensive investment advisory, administration, planned giving, custody, trust and fiduciary services to trade associations, educational institutions, foundations, endowments and other not-for profit clients across the country.
Have a specific question about the scope of your fiduciary duties or how you can implement clearer guidelines and controls to avoid a potential breach of duty? Contact your Truist relationship manager or investment advisor or call us at 866-223-1499.