It's no secret that workers who've become accustomed to remote work may be reluctant to return to the office in person, even when COVID-19 is less prevalent. Global Workplace Analytics, a research and consulting firm, has found that more than half of U.S. employees have a job in which at least some of their tasks can be done remotely, and 82% want to work from home at least one day per week, with 19% desirous of a full-time remote option.1, 2, 3 That runs counter to what many CEOs are saying they'd like to see post-pandemic.
What CEOs are saying about returning to the office
"Most companies are publicly saying, 'We want to be an employer of choice and be flexible and give people lots of options,'" says John Pilant, managing director at Truist Securities. "But in many CEO conversations that I've had, there's an underlying current that says, 'We want to get everybody back in the office as soon as we can do so safely.'"
"It's not that companies are insincere in their desire to be flexible," says Pilant. "But corporate culture can be difficult to maintain when teams are working remotely for long periods of time.  And, for many companies, collaboration and teamwork that help drive innovation are extremely challenging in a remote environment."
What REITs are saying about urban office space
Another myth, perhaps, is that the urban office building is ready to become an urban legend. Lindsey Houser, managing director at Truist Commercial Real Estate, points out that despite all the talk about "flexible" work options and the flight from big cities, some big tech companies like Amazon and Apple are actually leasing more office space now than they have in the past.
According to Houser, Amazon has leased more office space in Atlanta with Cousins Property, the biggest owner of office buildings in the city, over the past few years than they have in the entire history of the company. "Many real estate investment trusts (REITs) are saying don't pay attention to what you hear or read about this big shift to remote work," he says.
Benefits of making smart real estate moves
The question is: What should you be doing about your business-related real estate, given these statistics and commercial real estate trends? Here are some of the factors being considered by those successfully navigating this in-between time and how those factors can foster business growth for you.
Bring back talent: Remodel the office to be more welcoming
One growing commercial real estate trend is business owners remodeling buildings to make them more attractive to would-be work-at-homers. "For example, we're seeing owners invest in their common areas and redo their lobbies," says Houser. Owners who are worried their employees may join the Great Resignation may want to consider this as a way to attract or retain top talent.
Improve cash flow: Lease extra space to cover building costs
Businesses that have found a reduced need for physical space are reimagining the configuration of their properties so they can lease portions to other businesses. For instance, one business changed its plans for an office building redesign after remote work proved successful and logical, given the many satellite offices.
Instead, they leased the first floor to an urgent care clinic and created shared workspaces upstairs. The added revenue pays their building fees, which helps boost the company's bottom line. Other growing sectors that may be looking to lease include medical labs and cold storage.
Foster flexibility: Separate heart-and-soul from brick-and-mortar
Jason Cagle, head of Industry Specialization & Advisory at Truist Commercial, notes that owners of family businesses—big, small, or somewhere in between—sometimes get emotional about their commercial real estate holdings.
"Family business owners love buying real estate and they love owning their building," says Cagle. "It's the physical manifestation of the business they have built." Their facility may also be a prominent landmark in their community and a home-away-from-home for longtime workers.
However, Cagle says that some owners are trying to take a more rational approach in the current environment. "Owning a building usually means a 30-year mortgage, which locks you into the building for the long term," he says. "But what if you buy a warehouse and your business doubles but the warehouse doesn't support it? What do you do then?"
In 2022, leasing or looking for flex space might be a better option than owning, building, adding on, or even moving. Or, says Cagle, you may want to consider a leaseback, in which you'd sell your building to a third party, then lease it back from the new owner. "This allows you to still use the building, while also freeing up capital you can reinvest in your business for growth," he explains. "The traditional paradigm of owning real estate is starting to change."
Meet ESG goals: Make updates and moves with the environment in mind

According to Kathy Farrell, head of Commercial Real Estate for Truist, some older, environmentally unfriendly commercial real estate is simply becoming functionally obsolete.
"This type of property is just going to end up being demolished or will need to undergo significant rehabilitation," she says. "Most businesses today want modern, clean, energy-efficient office space for their employees, especially after coming through a global health crisis."
Farrell says that businesses can take advantage of various tax programs to upgrade existing properties to be more energy efficient. "This is one way property owners can achieve their environmental, social, and governance (ESG) goals," she says.
If you choose to do that—or to build a more sustainable facility—be sure to disclose the improvements to all stakeholders.
Increasingly, investors, customers, employees, and organizations are interested in what companies are doing to care for the planet and the people who inhabit it, but they won't know the positive steps you're taking unless you tell them.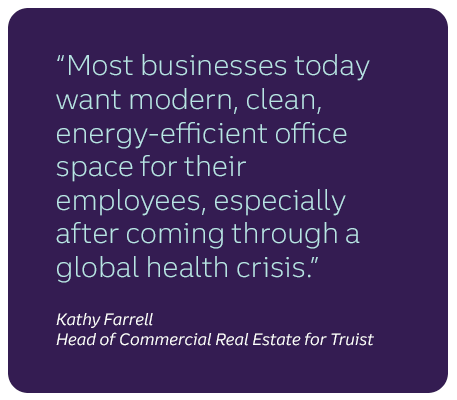 Are you prepared to combat fraud quote