Auto retailing is in the midst of a construction boom fueled by favorable cash flow, upgrades after ownership changes, and the pent-up demand for facility updates to keep up with customers and serve them efficiently. To review current construction and design trends, we talked with Joe Pella, head of National Commercial Real Estate at Truist, Jason W. Smith, head of Dealer Commercial Services at Truist, and Ryan Stancill, Principal at architecture and multidisciplinary design firm PRAXIS3.
How has the rise of mixed-use development in major metro markets affected the way dealers approach the best use of their property?
Smith: As urban sprawl extends to dealerships that were once on the outskirts, developers have started approaching dealers about their valuable real estate. Dealers often sit on large, contiguous pieces of land in densely populated areas. With vehicle inventory projected to remain at lower levels, this opens dealership space for redevelopment. For dealers with the population density and location attractiveness to support it, why not monetize the excess land and bring in more retail traffic, integrating the dealership into the community at the same time?
Rethinking how much land you need and how that land can be used can point you to opportunities to unlock additional value, whether you develop the property yourself, partner with a developer, or sell a portion of your land. 
Stancill: We're seeing a lot of mixed-use projects being discussed, and it's often the municipality pushing dealers in that direction. We've studied several projects where a mixed-use component was a requirement for project approval.
Mixed-use developments can bring resources and amenities closer together to create a more sustainable and walkable community. With these developments, dealerships can maintain a central presence in the community while blending residential, retail, and commercial uses to fit site and local market needs. Also, if you want to put valuable land to its best and highest use, you might consider vertical development along with mixed use instead of a freestanding, dealer-only facility.
Pella: Given the increased density of their surrounding areas, dealerships can remake how they utilize their existing footprint by consolidating their dealer operations and creating available land to build commercial real estate. They're sited next to existing infrastructure with roads, utilities, and in many cases, public transportation. As a dealer, you've got the opportunity to think about how your dealership can become part of today's lifestyle while tying into the surrounding community. Consider experiential retail: people shopping, sitting outside, having a meal, enjoying live music—a place where things are happening. Experiential retail recognizes that the most successful mixed-use developments are fully activated spaces that provide a variety of amenities.
Smith: As land gets more valuable and density becomes a requirement, Manhattan may be the place to look for models of what dealerships can look like. BRAM Group's Toyota and Lexus of Manhattan has a high-rise presence with new cars on the fourth floor, used cars on the roof, and a second lot in New Jersey to hold additional inventory. On the West Coast, Toyota of Hollywood has partnered with Houston-based Hines and announced its plans for a mixed use project including a high-rise residential tower, a residential village, an office building, and a public plaza with green space along with retail and dining.
PRAXIS3 design concept for multi-use automotive retail facility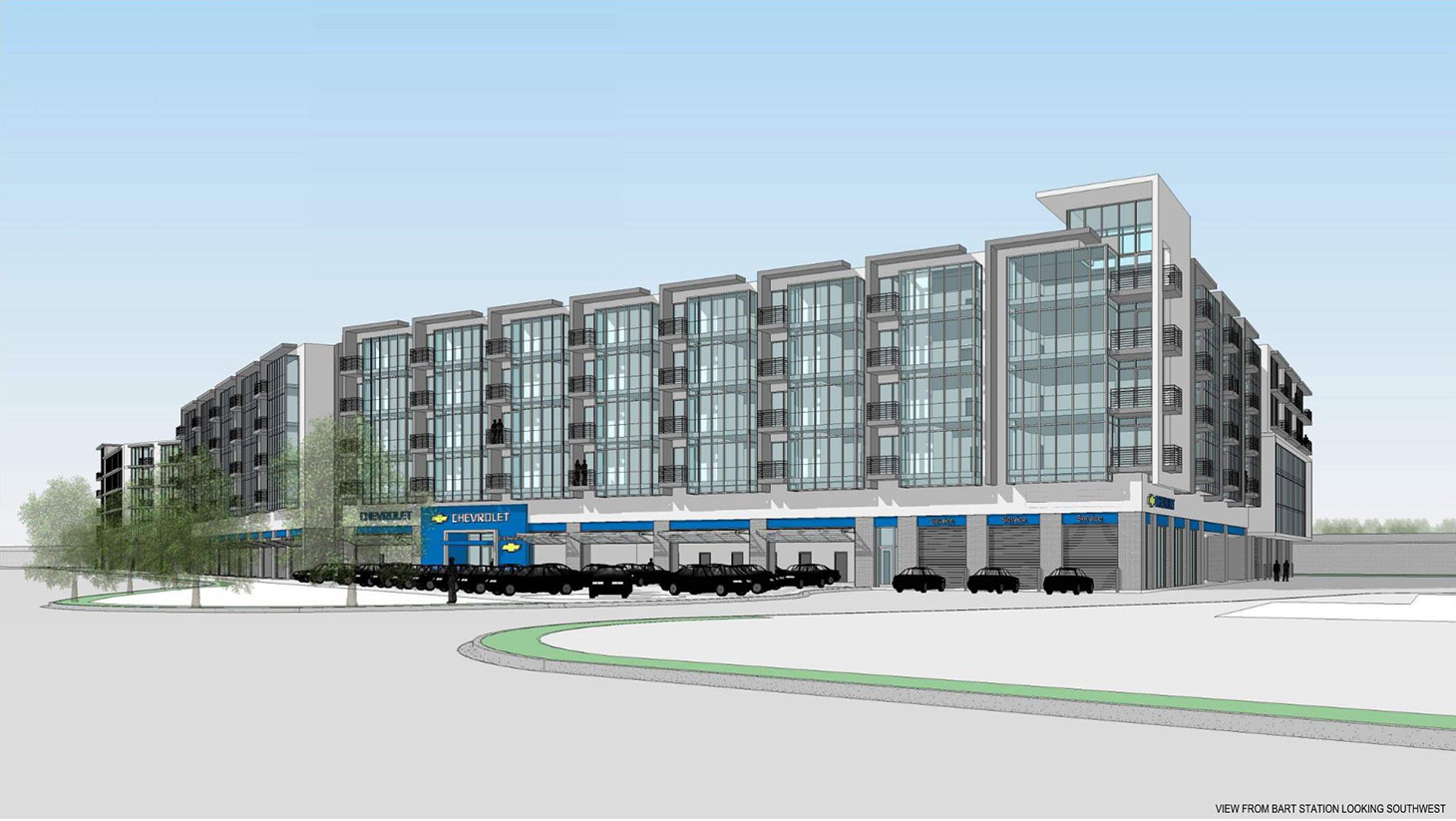 What's being done in dealership design today to address where the automotive marketplace is moving and ensure that dealers are best positioned to meet tomorrow's needs?
Smith: In major metro markets, vertical development is starting to take hold in auto retailing, and that helps counter high land prices. Dealers are also re-evaluating the space devoted to service versus sales. In select, densely populated, urban areas we're seeing lifts used to put service bays on the second, third, and fourth floors, with mixed-use residential on top and parking somewhere in between. In coastal areas parking decks can help protect against hurricanes and in areas prone to hail damage, they can help you save on insurance costs.
Stancill: Online sales, lower vehicle inventories, and consolidation all make it easier for dealers to downsize their variable operations while building out their fixed operations. It costs less per square foot to build service and parts space than showroom space. In fact, a lot of dealers who've completed recent facility initiatives are ready to further expand their fixed operations—in some cases, more than doubling the size of a service department built just a few years ago. We're being very thoughtful about putting infrastructure in place as we plan dealerships, thinking about the location of utilities and how the building components are set up to make future expansion easier and less expensive.
Planning dealerships for service growth from the ground up is a smart approach. For example, we always try to work with the dealer to think about future parts and service expansion during the initial design to make tomorrow's expansion as painless as possible. We're also seeing a greater investment in technician spaces, such as larger and more comfortable locker rooms and break rooms. The goal is to look at anything that will help attract and retain top tech talent in a highly competitive labor market.
There's also a focus on designing parts and service departments to accommodate EVs with particular attention to the safe storage and handling of EV batteries. The "skateboard" batteries in EVs are almost the size of a car. They're exceptionally heavy, and the parts area in a typical dealership isn't designed to receive or store them. Plus, batteries pose additional safety and fire hazards that need to be considered in facility designs. 
What challenges are dealers facing today when they undertake dealership construction projects?
Smith: We know EVs have fewer moving parts than internal combustion engines, but with the unknowns about EV service patterns and adoption rate, deciding on the optimal number of service bays may be a bit of an educated guess. In select instances when you're moving service areas higher, you'll also need to plan for additional infrastructure to support the added weight of EVs.
The faster chargers that OEMs are requiring dealers to install have much higher power needs and will require more investment. A Level 2 charger may cost $30,000 but installing Level 3 chargers can cost $500,000 – 700,000 from start to finish. Coordination with utility companies can be a lengthy process—the fastest chargers draw enormous amounts of electricity, and local utilities sometimes require a dealership to upgrade its power-handling capacity first. Sometimes the utility provider can't provide enough power without a line extension or other major work. After learning what's required, getting the permits and components lined up for a charger installation adds significantly to your project timeline. Also, solar panels could carry some of the load, and depending on where you're located, there could be tax rebates or grants to offset the cost of installation.
Stancill: One of the big problems now is scheduling projects. Everything takes longer than expected because the construction world has such limited availability, whether it's people, or products, or services. With architects backed up for months it's often impossible for dealers to complete a facility by the dates specified in their OEM agreements.
Hard bidding, which many dealers strongly prefer, makes it more difficult to complete a project on time. These days most contractors simply won't bother hard bidding a project—even a very lucrative one. They'd rather be a partner in figuring out how to compress the schedule and lower project costs without the risk of a fixed price. Dealers should be flexible in negotiations and be prepared to make their case for extended project timelines to OEMs.
How should dealers think about engaging the right resources and expertise—from planning and design to financing and construction—to get the most from their development investment?
Pella: Reimagining the dealership space mandates conversations with partners and municipalities about what's already there and what the real estate market fundamentals are telling them. We see positive fundamentals for commercial real estate over the long term. Higher interest rates have slowed the market, but there are still good opportunities for certain asset classes in the right market. It's all about connecting with a partner that knows the local market to help you navigate the overall development process, including planning questions—particularly for mixed-use developments—that cover everything from zoning and parking to individual ownership arrangements and dealership access easements.
Stancill: The considerations needed to make sure a deal is supportable, marketable, financeable, and profitable can seem overwhelming. A lot of dealers may be interested in mixed-use development but hesitate to get out of their lane. They know dealerships, not commercial real estate. What can their land support, and how do they meet future spatial needs? Thinking through these questions—with the right team at the outset—helps get a project designed, zoned, developed, managed, and financed.
Pella: In the mixed-use space you've got to consider factors like market rents and lease-up trajectory (for commercial space), along with ground-up construction risks and various proposed uses. Compared to standard dealership buildouts, mixed-use developments require a more complex financing structure for the construction phase and an active commercial real estate oversight during each phase. The ownership structure and capital mix could provide your dealership—or your family—with opportunities to diversify your portfolio and generate additional returns.
Smith: Truist can connect dealers with commercial real estate specialists to help determine the best way to enhance the value of your property and to work with your municipality on zoning and permitting. We'll look at various ways to structure financing to achieve your project goals, minimize risk, and cover all the angles—at each stage. If you're thinking about a construction project, talk to someone on the Truist Dealer Services team who can assemble Truist resources to bring you the perspective and expertise you need.
How can you get the most from your dealership's real estate?
Give us a call at Truist Dealer Services to talk about how Truist can help you maximize the value in your property with development that benefits your customers, your business, and your community. Visit us at Truist Dealer Services.