Rihanna. Britney Spears. Justin Bieber. Beyoncé. These are just a few of the musicians that Christopher "Tricky" Stewart has collaborated with over the course of his 20-plus-year career as a songwriter and producer. If you've listened to pop music over the last two decades, you've heard his work.
Happier now than he's ever been, he's taking stock of his success, reveling in his role as a husband and father, and using his experience to help new artists. With an eye on the past, he's looking ahead at what's next.
Music was all around
Family has always been at the center for Stewart, and at the center of the family was music.
"My earliest musical memory takes place in my mom's bedroom. I am 2 or 3 years old. I've got her eight-track player. I'm wearing headphones and I'm listening to Earth, Wind & Fire; Bootsy Collins; Gino Vannelli; and KISS," Stewart says.
Stewart grew up in the late '70s in Dolton, Illinois, a suburb just south of Chicago. Both of his parents participated in choir competitions.
"They were both born with the gift of music inside them," Stewart says.
"From the very first moment I decided to touch music, I was hooked."
"Music was all around me. My mom and her sisters were singing backgrounds for Aretha Franklin. My uncle was the biggest jingle producer in Chicago, doing some of the biggest commercial campaigns for brands like Coca-Cola, Pepsi, and McDonald's. My aunts would sing on them. Music permeated all the way through my family in every place that I could look."
But, Stewart says, "I was looking somewhere else."
He ran from it—literally—because he was mad for football. The game was life for Stewart, and he became an accomplished quarterback as a kid. "I liked being in control of the game," he says. "I wanted to be at the epicenter."
But when the other kids came back from summer break 40 pounds heavier and five inches taller "and I hadn't grown an inch," Stewart knew "it was time to read and react."
"It was decision-making time for me. It felt like a race against time. A lot of kids didn't get to become adults in Chicago, and sports wasn't going to be the way out."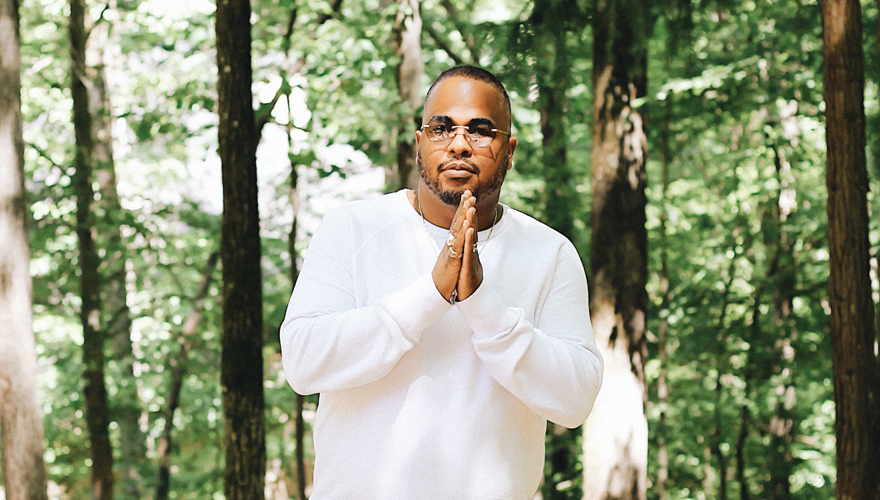 He didn't have to look far to find another way. His cousins were landing voice acting gigs on Disney films. His older brother Laney was a musical prodigy and producer. "He was eight years older than me," says Stewart, "and he had a piano in his room. It wasn't far away; I just needed to take a little trip down the hall.
"From the very first moment I decided to touch music, I was hooked."
Stewart began writing songs with his cousins, aunts, and friends. "Every writer or producer has to write a song that makes people go, 'Who is that?!'" says Stewart. When he was just 15 years old, Stewart wrote that song—called "Be My Girl," which made it onto the debut album of the up-and-coming R&B group Immature.
He was offered his first production fee and a trip to Los Angeles. "I would have gone for $300 and some Skittles," he says jokingly. Perhaps he could have gotten more money for the song, but it was an experience that would set the stage for Stewart's entire career.
Stewart relocated to Los Angeles, where he found success. But after a few years, he developed relationships with several Atlanta-based music moguls and soon felt the pull to relocate his business to Atlanta, a place unlike any other in the industry.
"I love the challenge of starting with nothing and having to create something—the relationships, the conversations that come along with making music and being in entertainment …"
Atlanta, a new frontier
"This is where I really grew up," says Stewart of Atlanta. "It's where I became a man." In many ways, the South was a fallow field for music, the new frontier in stark contrast to the expensive lifestyle and saturated market of the West Coast.
"Atlanta was an affordable place to be," says Stewart. "I could build a life and a career at the same time. It's difficult to do that in New York or LA." Artistically, Atlanta was doing things differently too. Black-owned record labels were giving more creative freedom to their Black artists like TLC and Outkast.
"These people not only looked like me, but they had also achieved success," says Stewart. "I was given free rein creatively because I came after those guys. I had no excuses, no option but to rise to the occasion. That's what happens in Atlanta. It's different from anywhere else. You get a free license to be a creator and entrepreneur."
It was in Atlanta where Stewart would do his greatest work—and some of his most rewarding.
"The most spectacular part of it is when you actually have a magic moment, when you've written a song and you hear the voice going on that song in real time," says Stewart. "And you know exactly what it is before anyone ever gets to hear it. You're taking that 'Umbrella' and putting it with Rihanna, or putting 'Baby' with Justin Bieber, or 'Single Ladies' with Beyoncé, and you're hearing it happen in real time. That's what makes all the long hours and countless days that you're never home worth it."
Home is your foundation
It's been more than two decades since Stewart wrote his first hit. And he says he's happier now than he's ever been. As he sits in his home office surrounded by his wife and young daughters, he says, "Ultimately, your home is your foundation.
Getting that part right just allows you to have a better outlook on life; it allows you to do your best work. Where you are and where you dwell is a light that sends you out into the world every day to accomplish your goals. Those things that make me really happy are developing right in front of my eyes."
In 2020, Stewart's record label, RZ3 Recordings, signed a new label deal with Sony Epic. Stewart is also creating a 10,000-square-foot studio/office space that will be the new home for his next venture. It will include a photography studio, rehearsal spaces, green screens, and spaces for listening parties. "It will be a complete musical film lot in Atlanta," he says.
Ultimately, Stewart finds the greatest joy and excitement not from looking back but from finding and developing new talent. "I was there at the beginning of many creative careers—Frank Ocean, Ester Dean, Pink, Justin Bieber. I love the challenge of starting with nothing and having to create something—the relationships, the conversations that come along with making music and being in entertainment are things that still motivate me to this day.
"Now I want to make content for new artists by creating a mechanism and platform for streaming, physical sales, and touring. That is the next big challenge for me."