Racing has given Kyle Busch, Brad Keselowski, and Martin Truex Jr. (pictured above with Sherry Pollex) a lot to be grateful for, including money, fame, and a platform with legions of fans. In return, these NASCAR drivers and their partners are using that platform to give back to the community in some pretty amazing ways.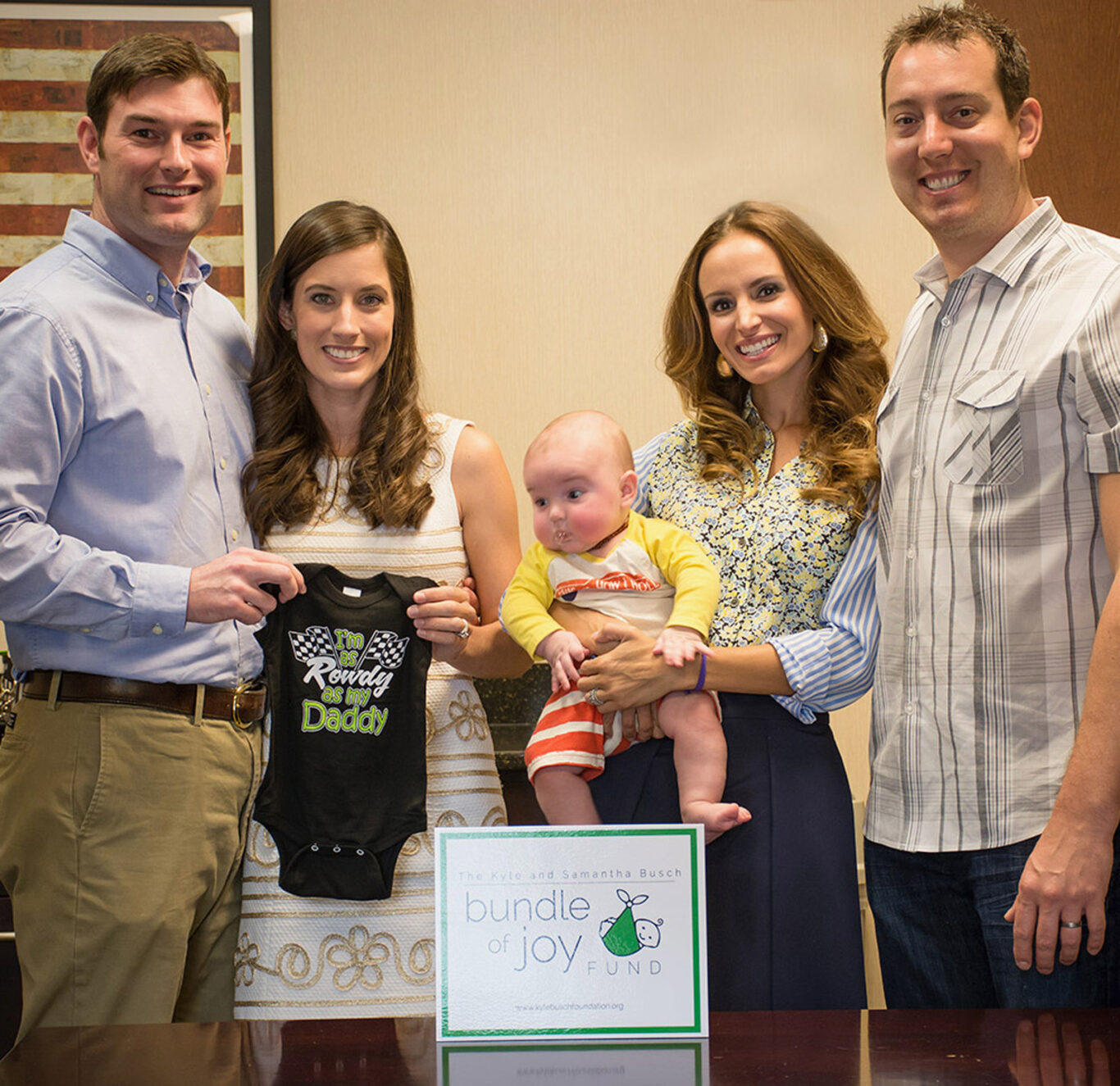 Kyle and Samantha Busch Bundle of Joy Fund
For Kyle and Samantha Busch, supporting couples struggling with infertility is an effort very close to home. The famed NASCAR driver and his wife tried for a long time to get pregnant before going through the process of in-vitro fertilization (IVF) to conceive their son, Brexton, now 6 years old.
"I think most people realize IVF is physically and emotionally straining," says Samantha Busch. "But I don't think they think about the finances; just one round can cost $20,000."
The idea that lack of money may prevent hopeful couples from becoming parents drove the Buschs to launch the Bundle of Joy Fund. Working closely with the REACH Fertility Center in Charlotte, N.C., the fund takes applications (there is an extensive vetting process) and gives out grants of up to $20,000 to couples in need. "Many couples that we help are police officers, firefighters, former military, public school teachers—people who choose jobs that serve their community," Busch says. Every year the fund invites its grant recipients—regardless of where they are in their journey—to a big family play date.
"When we do the family play dates, it's a reminder we've been put through this for a reason," Busch says. "It feels like, 'OK, God, you had this all along.' Because you see the joy of the parents and you look at all these kids and it's very rewarding."
For more information, go to bundleofjoyfund.org.
Martin Truex Jr. Foundation
Since 2007, Martin Truex Jr. and longtime partner Sherry Pollex have used their foundation to raise money for underfunded childhood and ovarian cancer initiatives.
For Martin and Sherry, their lives changed forever in 2014 when Sherry was diagnosed with stage 3C ovarian cancer.
"Cancer was the ultimate wakeup call," she says on her website, sherrystrong.org. "It taught me that I could use my voice and this platform to help other women battling this horrible disease."
And that is what she and Martin have done ever since. They expanded the foundation's mission to focus on both childhood and ovarian cancer, with an emphasis on integrative medicine—including elements such as reiki, acupuncture, and art therapy—to help patients through the process and side effects of treatment.
Every September, the foundation hosts a Catwalk for a Cause fundraiser in which NASCAR stars walk the red carpet with kids who have been diagnosed with cancer. This year, the event raised more than $600,000.
In November 2020, Sherry cut the ribbon on the Sherry Strong Integrative Medicine Oncology Clinic in Novant Health's medical center in Charlotte, N.C. Sherry hopes to open similar clinics across the country. "This isn't a hospital. This is a place to come to get well and feel well," Sherry says. "This is a place of hope."
For more information, go to martintruexjrfoundation.org and sherrystrong.org.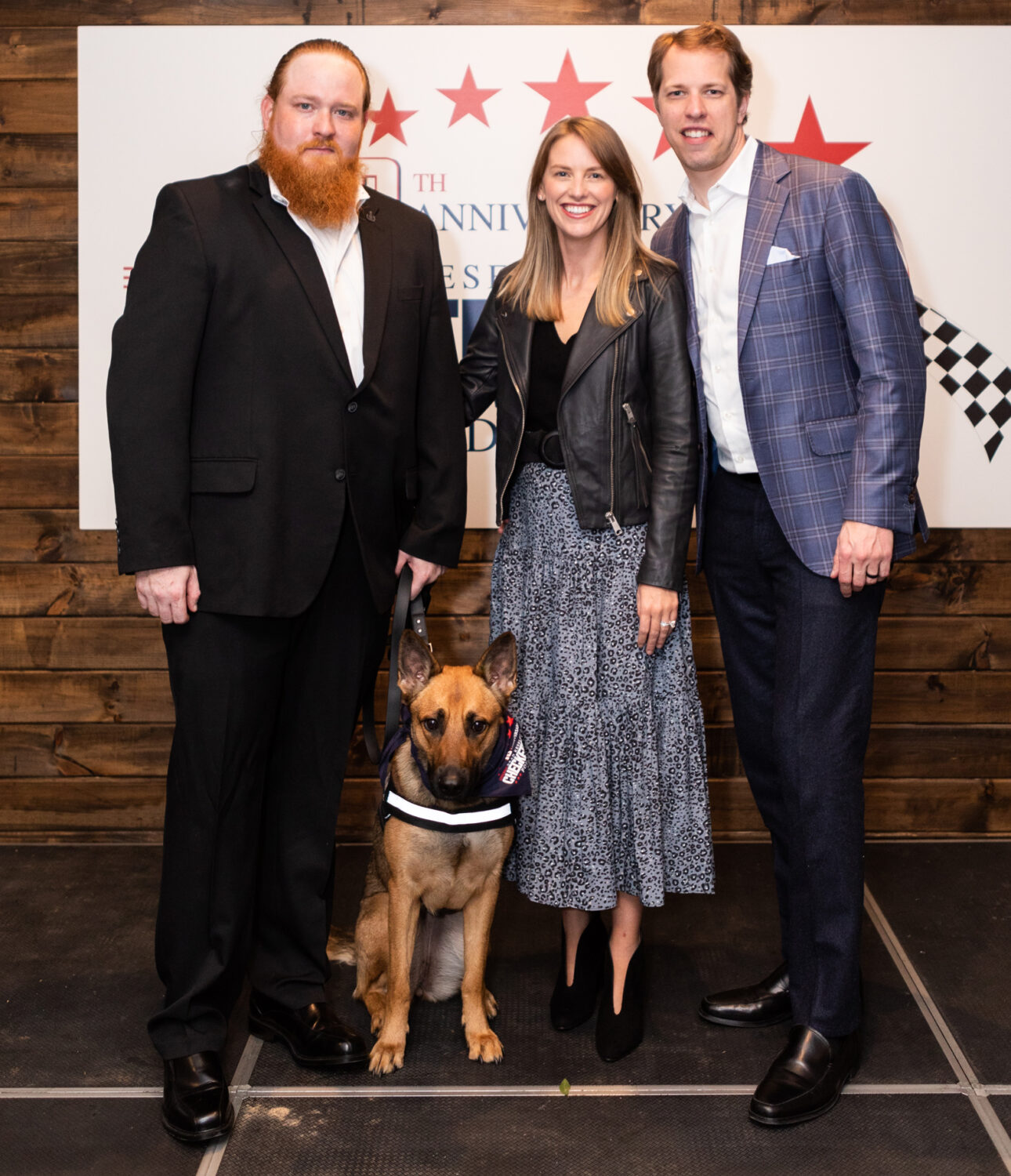 Checkered Flag Foundation
It began with a visit to Walter Reed Medical Center. Visiting recuperating veterans was one way for NASCAR drivers to give back, but this visit was different. Brad Keselowski saw a friend getting the crucial care he needed after having been injured in a war zone. It prompted Brad to ask, "What can I do to help?"
And in 2010, the Checkered Flag Foundation began. Over the decade, the foundation's focus has grown to include first responders such as firefighters and police officers. But the mission remains consistent—to give back to those who risk their lives to serve us.
Some of the greatest moments with Checkered Flag have been through a program called the Service Dog Fund. The foundation sponsors procurement and training for certified service dogs for veterans who may be injured or have PTSD. At the end of the training, everyone attends an emotional ceremony called Hero's Homecoming, in which the veteran meets their dog for the first time.
Says Brad's wife Paige Keselowski, vice president of the foundation, "For us, it's all about giving back to our nation's heroes who sacrifice so selflessly to keep our country and communities safe. While a simple 'thank you' can mean the world, our goal is to go beyond that and really make an impact in the lives of our servicemembers and their families."
For more information, go to checkeredflagfoundation.org.