"Overnight, we had become a [COVID-19] hot spot, and it was terrifying," says Carolyn Higgins, Phoebe Foundation's president and chief fundraising officer.
The Phoebe Putney Health System serves 40 counties across southwest Georgia. When the hospital began to run out of supplies, "the very first need was PPE—gowns, face masks, hand sanitizer, the touchless thermometers—we were short on everything," Higgins says, noting that the health system went through about six months' worth of PPE in just five days.
Healthcare workers stayed safe thanks in part to a $500,000 Truist Cares grant that helped secure PPE and spurred a wave of similar donations. "It helped bolster the morale of our team," Higgins says. "We felt like we were no longer alone."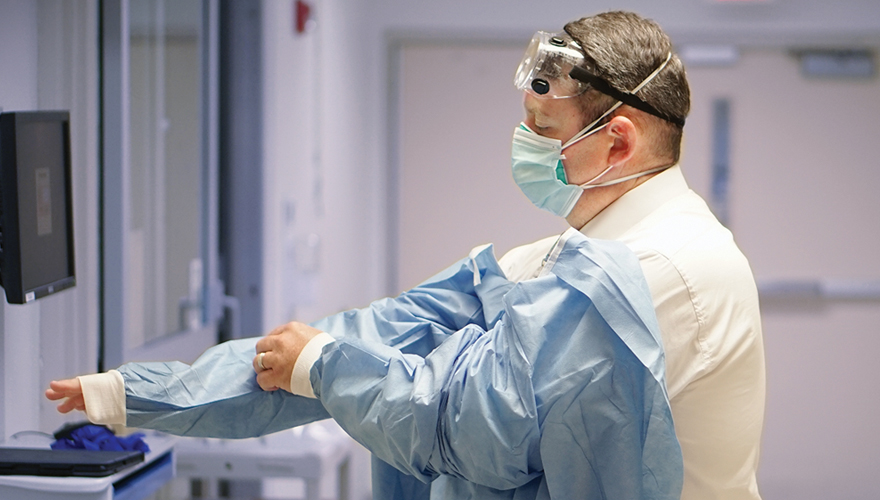 A foundation that cares
Launched in March 2020, the Truist Foundation partners with hardworking nonprofit organizations to create opportunities for those who need it most.
"Eighteen days after we launched, the pandemic hit," says Lynette Bell, president of the Truist Foundation. "But we were able to reach out much more quickly than a lot of other financial institutions, and within 22 days we had distributed the first $25 million grants under our Truist Cares COVID-19 relief initiative."
Truist Cares is a cooperative effort between Truist Financial Corporation; Truist Foundation, Inc.; and Truist Charitable Fund to provide communities, organizations, and individuals disaster relief and assistance during the COVID-19 crisis.
"Our company leaders—Kelly King and Bill Rogers—were adamant that we needed to address the pandemic early on, and that's how Truist Cares was born."

— Lynette Bell, president of the Truist Foundation
Providing essential services
"Our company leaders—Kelly King and Bill Rogers—were adamant that we needed to address the pandemic early on, and that's how Truist Cares was born," says Bell.
Since March, Truist Cares has donated more than $50 million to grantees. Johns Hopkins University and the CDC Foundation—both on the front lines of fighting and tracking the pandemic—were among the first to receive grants of $1 million each. An additional $7 million in grants went to local United Way organizations.
During the pandemic, 3,000 Boys & Girls Clubs of America stepped in to provide food, water, supplies, tutoring, childcare, training, and more to families of first responders and essential workers in their communities.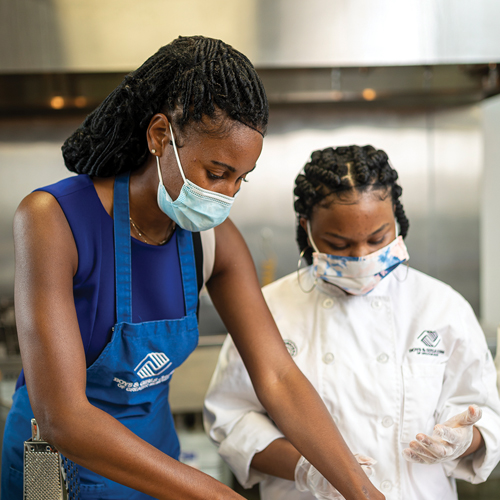 "Truist was among the first organizations to give," says Jim Clark, president and CEO of Boys & Girls Clubs of America. The organization distributed a $2 million grant from Truist Cares across hundreds of clubs in underserved communities. That meant more facilities could stay open, and, according to Boys & Girls Clubs, more than 113,000 youth could be served in places where the need is greatest.
Quin Kelly, culinary director of the Memphis Boys & Girls Clubs' Juice Plus+ Technical Training Center, has been making more than 120 breakfasts each morning for the children of essential workers. "We saw a report that said one in seven healthcare workers couldn't go to work because of childcare," says Kelly. "So soon we opened our first location to offer childcare services, including meals. We were serving 20 kids at one location at first; that quickly expanded to four locations."
Small businesses create better communities
"We had been doing in-person classes, teaching people how to make their own soap from scratch. That all had to stop," says Kela Nabors, who owns Organically Bath & Beauty in San Antonio. "Our income went from maybe $10,000 to $15,000 a month to almost zero."
Nabors applied for COVID-19 relief funding and received a $25,000 grant from LiftFund, a community development financial institution that helps underserved small business owners. That assistance was made possible by a $1 million Truist Cares grant, which enabled LiftFund to provide relief to 80 small businesses like Nabors'. The grant helped Nabors pivot to online sales and hire additional staff.
Literally, I cried when they called and said the [$25,000] number," Nabors says. "We've never had that kind of backing before."