Global energy commodity prices have quickly spiked. Benchmark European natural gas (natgas) prices have spiked more than 180% since early August, while U.S. natgas has jumped over 60% (slide 3). Crude oil prices jumped as well, albeit not to the same magnitude (slide 4).
The widely-held narrative is global natgas supplies will be inadequate for the colder winter months, particularly in Europe, where natgas fuels roughly 20% of electric power generation. The United Kingdom (U.K.) is the epicenter of the natgas supply/power generation fears after Britain's main undersea electricity cable connected to France burned, knocking out capacity until March 2022.
Although the U.S. does not have power generation issues, natgas supplies are roughly 7% below the five-year average, while Gulf of Mexico production has been hampered by Hurricane Ida, with more than 70% still not back on line.
China is having its own electricity generation issues due to a lack of coal, mostly due to issues at China's three largest mines along with an ongoing trade spat with Australia, which had been its largest external coal source. This has caused widespread power outages in China, especially in the northeastern industrial hubs.
China's electricity shortage has increased prices for industrial users during peak times. Government officials have ordered state-owned energy companies to secure coal supplies for this winter at all costs.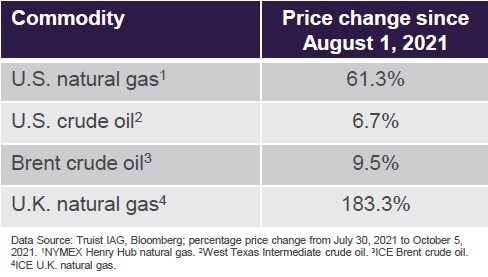 Special commentary: Spike in energy prices won't derail US recovery, different story globally
Coal fuels about 70% of Chinese electricity production. In response, the country's big coal miners are now pledging to boost output as winter approaches. The power outages also have global speculators believing China will use more natgas to make up the difference.
India is also experiencing electricity outages due to inadequate supplies of coal, which fuels more than 70% of its power generation (slide 5). Monsoon rains, which stop coal production in India, lasted longer than usual. Power outages cripple India's high-tech companies, which depend on stable electricity.
To read the publication in its entirety, including charts and support, please select the "Download PDF" button, below.