What happened
After strong outperformance, the energy sector has come under pressure recently. It is down more than 20% from its June peak on the heels of rising recession concerns and the accompanying plummet in oil prices.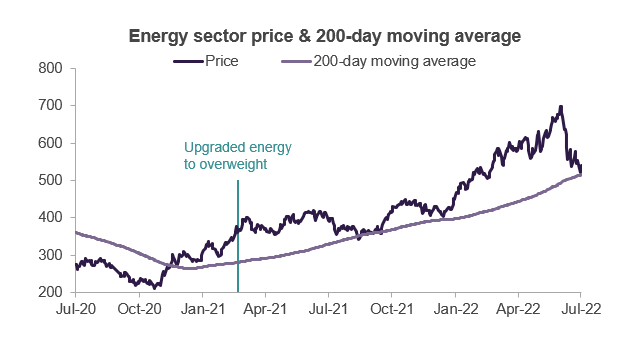 Our take – Pullback represents a buying opportunity
We view this pullback as a buying opportunity and reiterate our overweight rating for the sector. The sector strategy team upgraded our view on the energy sector to overweight in February 2021. Since then, the energy sector is still up nearly 50%, even when accounting for the recent pullback, versus the S&P 500's return of about 3% over the same period.

That the sector is still outperforming over this period despite such a sharp recent pullback goes to show how extreme the outperformance of the sector had become. The good news is a lot of the excess has now been corrected and the macro and fundamental backdrop remains supportive.

Macro view – Supply deficit and tight inventories are key supports

Our senior U.S. macro strategist, Mike Skordeles, continues to expect the price of oil to remain elevated, which is a positive for the energy sector. This view is underscored by continued supply constraints and tight inventories. Indeed, the supply deficit is expected to get worse as we move through the third quarter, and our team anticipates the deficit to grow to two million barrels per day by the fourth quarter.

Additionally, a Russian court ordered a 30-day suspension of operations for the Caspian Pipeline Consortium, which exports Kazakh crude oil from a key terminal in the Black Sea – which is an additional flow that averages 1.2 million barrels per day.

Inventories are well below the pre-pandemic 10-year average range. Additionally, a recession generally doesn't impact crude oil consumption that greatly, especially over the shorter term. In fact, consumption change was minimal during three of the past eight recessions. The 1980/81 double dip recessions, the global financial crisis, and the pandemic were the exceptions.

To read the publication in its entirety, select "Download PDF," below.
An accessible PDF allows users of adaptive technology to navigate and access PDF content. All fields are required unless otherwise noted.