1.     A dichotomy of regulatory progress
Global regulatory progress for crypto came to a head in recent weeks with a stark contrast between European and U.S. regulators.
The divergence is accentuated by comments from Patrick McHenry, Chair of the House Financial Services Committee, noting that Europe's passage of MiCA (see p. 2) potentially places them at a competitive advantage that "should send chills up the spines" of Americans.
Coinbase sued the SEC, attempting to force a public ruling seeking regulatory clarity in the face of aggressive SEC enforcement actions.
The April 18th testimony of SEC Chair Gary Gensler before the House Financial Services Committee was contentious and marked a distinct difference of opinions between the Committee and the SEC.
A Stablecoin bill, which looked encouraging in July 2022, now faces a setback with former Chair Maxine Waters stating her desire to "start from scratch".
2.     Bitcoin and Ethereum correlations with S&P 500 plummet
The two largest cryptocurrencies have each seen their correlations with the S&P 500 decline from an all-time high in May 2021 to new relative lows.
This could signal increasing independence of this nascent asset class at a time when the S&P 500 remains in a choppy trading range.
Chart of the month – Bitcoin and Ethereum thaw
The Bitcoin and Ethereum blockchain's dominance within the crypto ecosystem currently stands at 65% of its total market value, a metric we show each month. This month, for context, we review these two largest cryptocurrencies' YTD performance along with the top 5 performing S&P 500 components through April 30.
Bitcoin and Ethereum would rank #3 and #4 in YTD performance behind only Meta and NVIDIA.
Bitcoin's $569 billion market value place it just above Tesla, the 8th largest S&P 500 component.
Ethereum's $228 billion market value place it just above Costco, the 28th largest S&P 500 component at $223 billion.
YTD S&P 500 top 5 performers + Bitcoin/Ethereum (as of 4/30/23)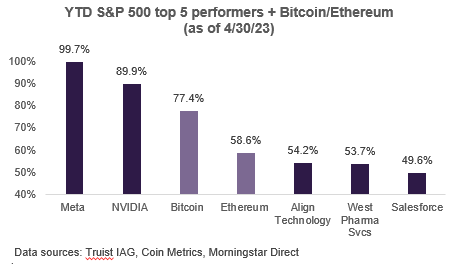 Mountain chart showing top 5 performers in market value along side Bitcoin and Ethereum as of April 30, 2023. Meta was 99.7%, NVIDA was 89.9%, Bitcoin was 77.4%, Ethereum is 58.6%, Align Technologies is was 54.2%, West Pharma Services was 53.7%, and Salesforce was 49.6%
To read the publication in its entirety, select "Download PDF," below.
An accessible PDF allows users of adaptive technology to navigate and access PDF content. All fields are required unless otherwise noted.