1.     Groundhog day or spring thaw?
Groundhog day on February 2nd  witnessed Punxsutawney Phil see his shadow and, according to legend, that means another 6 weeks of winter. That's the last thing that crypto enthusiasts wanted to hear.
Nevertheless, Crypto has rallied this year with other risk assets as markets continue to gauge a deceleration of Fed rate hikes.
Part of the January rally in the most liquid and large crypto names, such as bitcoin and ether, is likely due to short covering as bearish futures positions were unwound.
2.  Crypto volumes surge
January trading activity saw crypto volumes surge 44% following a decline of 48% in December.
Some of the strongest volume spikes were concentrated in the most beaten down assets such as smart contract platform Solana which also saw its price rise by 140% in January.
3.   Politicians compelled to return FTX campaign donations
As part of FTX bankruptcy proceedings, new FTX management sent confidential letters to politicians and PACs asking that campaign donations received from FTX be returned by February 28th
FTX paid an estimated $70 million in campaign contributions making them one of the largest contributors during last year's election season.
Chart of the month – Miner's bounce
Crypto mining company stocks suffered an abysmal 2022, falling an average of 90% as a group. 2022 headwinds included: the transition of Ethereum to a proof-of-stake validation mechanism, ongoing environmental concerns about significant energy consumption and the crypto winter.  Miners are chiefly compensated in the cryptocurrencies they perform transaction validation for and plunging bitcoin prices left them selling bitcoin to pay their bills, adding to bitcoin's price volatility.
January's reversal coincided with a rebound in bitcoin prices and record hashrate* levels, often a sign of strength for the sector.
Crypto miners 2022 and January performance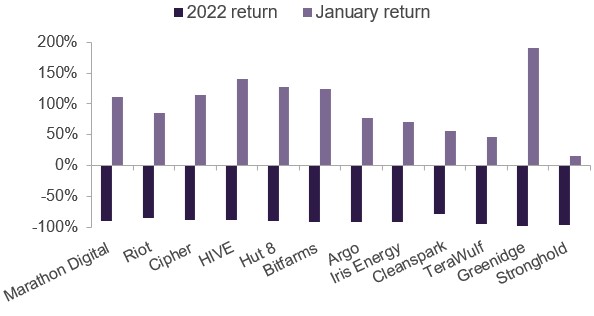 To read the publication in its entirety, select "Download PDF," below.
An accessible PDF allows users of adaptive technology to navigate and access PDF content. All fields are required unless otherwise noted.