Introduction
This publication provides our latest views on the state of the private capital markets. We've also included theme-based discussions on timely topics. Going forward, we'll present our take on significant industry developments and our perspective on potential opportunities for investors at least quarterly. As always, please contact your Truist advisor to learn more, and for guidance on how our views may help shape your portfolio.

State of the private equity market and a look back at a hallmark year
The private equity (PE) industry set new record highs in many areas during 2021. More capital was raised, and more PE and Mergers & Acquisitions (M&A) deals were completed than in any other year on record. Investor enthusiasm for private equity shows no signs of waning.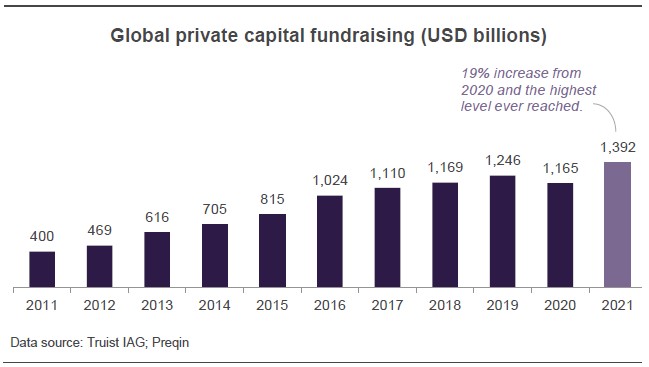 Eighty-eight percent of investors surveyed by alternative assets data company Preqin in 2021 said they expect to increase or maintain their PE allocations in 2022, and 95% said they will do so over the longer term. At a time when future investment return expectations are generally lower, investors are turning to private equity to potentially boost portfolio returns.
To read the publication in its entirety, select "Download PDF," below.
An accessible PDF allows users of adaptive technology to navigate and access PDF content. All fields are required unless otherwise noted.