What happened
In March of 2021, our team identified real estate investment trusts (REITs) as having catch-up potential given their prior underperformance. We expected a rebound in sectors most negatively impacted by the pandemic. The consensus also seemed to underappreciate the shift in sector composition towards areas that supported e-commerce and the digital economy.
Our base case largely played out, and REITs outperformed the S&P 500 by a wide margin last year. We saw a broad-based recovery, with many of the pandemic-sensitive sectors seeing dramatic outperformance. Fund flows from operations (FFO) for REITs also rebounded as the economy healed and vaccines arrived. However, so far in 2022, REITs have struggled alongside the broader market.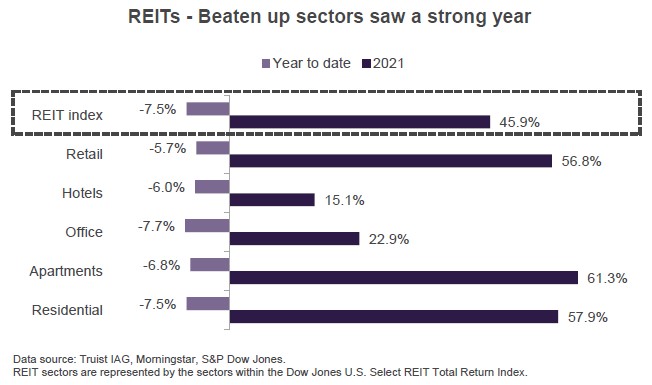 Our take – Sector composition, dividend yield supportive
We maintain a positive view on REITs. The sector composition, which includes growth, cyclical, and defensive exposures is a tailwind in our view. These exposures should help bolster the asset class in a wide range of scenarios.
Although the spike in COVID-19 cases due to the omicron variant has delayed the return to the office for many companies, we expect it to occur later in the year aided by COVID-19 vaccines and therapeutics. Additionally, as the world continues adapting to the virus, this should help the pandemic-sensitive sectors, such as offices, as well as some of the more economically-sensitive areas of REITs, such as hotels/lodging and resorts.
Conversely, as the business cycle matures or should worries about new variants or the economic outlook intensify, more defensive areas driven by secular growth, such as industrials, data centers, and cell towers, should perform well. Importantly, these secular growth sectors, many of which support the digital economy, have become a much larger part of the index. The more cyclical areas are now a much smaller part of the index than they were over a decade ago.
Furthermore, fundamentals and demand for real estate should be supported by a U.S. economy that we expect to grow above trend through 2023 alongside society's improved adaptability to new variants. We expect occupancy growth and rents to accelerate, ultimately supporting revenue growth. That said, demand growth is likely to vary based on sector, underscording our favorable view of REITs' sector composition.
To read the publication in its entirety, select "Download PDF," below.
An accessible PDF allows users of adaptive technology to navigate and access PDF content. All fields are required unless otherwise noted.