What happened
The topic of diversity and inclusion in corporate America has been around for decades, but is increasingly garnering interest across industries, including investment management and how we can level the playing field for those managing client assets. The concept of diversification in managing assets is well understood, and historically, investors have prioritized portfolio diversification with a focus on asset class, investment strategy, sector and/or company fundamentals. Diversification of manager backgrounds, however, is often overlooked in the sense it's not generally considered as part of manager selection criteria.
Diverse asset managers are defined as firms primarily owned (at least 25%) or strategies controlled by women, people of color, LGBTQ, veterans, those with disabilities, etc., and they're severely underrepresented among managers hired for client investment portfolios. For the purposes of this paper, much of the research has been on women and people of color, so we'll focus our attention largely on those areas, but realize this is certainly a broader issue.
From a traditional asset allocation standpoint, there are low levels of representation in every asset class/strategy broken out by traditional mutual fund managers, hedge funds and private investments. Some of the best work on this topic has been done by the Knight Foundation and Bella Private Markets Research (2018). They find women-and minority-owned firms control just a fraction of U.S. investments despite equal or better performance relative to traditional managers. According to their work, women-owned firms control 0.8% of assets, while minority-owned firms represent just 0.4%. What's even more significant is the statistics haven't changed in over a decade.
In the hedge fund space, the research shows women-owned firms control 1.5% of hedge fund assets, while minority-owned firms manage 2.7%. For private investments, women-and minority-owned firms manage 3.4% and 3.9% of industry assets, respectively. However, the latter consists of a much smaller subset.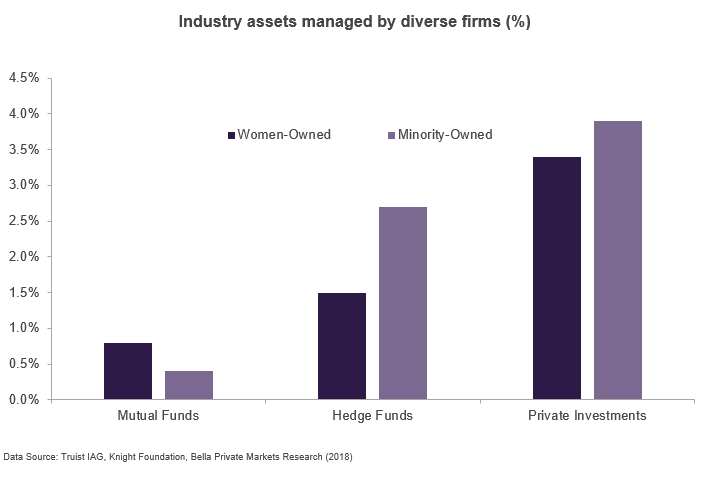 While the perception of many investors is the funding landscape for women and minority-owned firms is balanced today, these firms struggle to raise capital largely due to inadequate demand for their investment offerings.
Thus, in an industry that has been slow to progress diversity and inclusion efforts, implicit and unconscious biases further manifest themselves in the management of client assets. There are perceived misconceptions that investing in diverse managers will come at the expense of competitive returns, firms lack scale (and may be too small or too new) to garner significant assets, and cognitive diversity is not considered meaningful in the selection criteria of managers.
To read the publication in its entirety, select Download PDF below.
An accessible PDF allows users of adaptive technology to navigate and access PDF content. All fields are required unless otherwise noted.