The difference between the 10-year U.S. Treasury yield and the 2-year yield is on the cusp of inverting for the first time since 2019. The yield curve typically has a positive slope, with longer-term yields above those of short-term rates, during an economic expansion. When a curve inverts, meaning short-term rates rise above long-term rates, it is often seen as a recession indicator.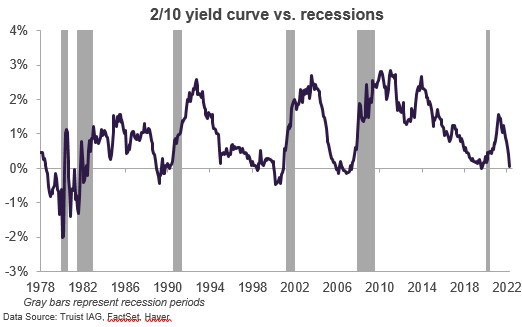 This chart shows a Mountain graph tracking 2/10 yield curve versus recessions from 1978 to March 2022.
The inversion of the yield curve should not be dismissed. It suggests risks are rising and the market is concerned about the Federal Reserve's (Fed) ability to maneuver a soft landing.
Historically, it's been a relatively accurate indicator, but not perfect, in calling a recession.
Importantly, there has often been a long lead time from the initial inversion to a recession as well as a great deal of variation. Moreover, a yield curve inversion has not been a good near-term sell indicator for the equity market.
Since 1978, there have been seven yield curve inversions (table below). The average time from the inversion to the next recession has averaged 16 months, but the range has varied from six months to 24 months.
The shortest period from inversion to recession was following the August 2019 signal that occurred prior to the pandemic. It's debatable whether we would have had a recession without the pandemic or the timing.
Conversely, the longest time from inversion to recession was 24 months prior to the great recession. There was also a false signal in May 1998 – the next recession did not occur until almost three years after that inversion.

Importantly, our macro team points out several other economic indicators are not yet confirming the message from the 2/10 curve – for example:
The unemployment rate tends to increase for three months in a row before signaling a recession (currently at a cycle low);

Weekly jobless claims tend to rise 20% year over year prior to a recession (currently at the lowest level since 1969);



The Leading Economic Index, which is a composite of indicators, signals a recession when it declines for four consecutive months, but it is still rising and just below an all-time high.

From an equity market perspective, the S&P 500 has risen 5 out of 7 times on a 3-month, 6-month, and 12-month basis following the initial inversion. The average 12-month gain following a signal has been 11%.
To read the publication in its entirety, please click the button below "Download PDF".
An accessible PDF allows users of adaptive technology to navigate and access PDF content. All fields are required unless otherwise noted.