Despite rising geopolitical risks, peak economic growth concerns, and the Federal Reserve moving closer to tapering its asset purchase program, the steady ascent of stocks continues. The S&P 500 is on track to have risen for the seventh consecutive month and is up about 21% so far in 2021. While periodic setbacks are the admission price to the stock market, we see the primary market trend over the next 12 months as higher, supported by an economy on solid footing, attractive relative valuations, and robust earnings trends. 
In today's note, we highlight six key charts on this year's equity strength and what they imply about the remaining market upside potential.
Since 1950, there have been 14 years where the market has been up more than 15% through August. Stocks went on to add another 4% by year end, on average, and climbed in 12 of the 14 instances, though periodic pullbacks along the way were normal. The S&P 500 is on track to rise for the seventh straight month. Following past instances, stocks rose over the next six months 13 out of 14 times and averaged a 12-month gain of 10%.


So far, the deepest pullback witnessed in 2021 has been only about 4%. The only two years that did not see at least a 5% pullback were 1995 and 2017. Thus, it would be normal to see a pullback before year end, but our view is investors are better served to focus on the primary uptrend that remains in place. 


Stocks have recently bucked the normal seasonal weakness in August, but remain in a historically-choppier period that tends to last into the fall.


Bull markets tend to be front-end loaded, but history suggests upside potential remains, albeit at a moderating pace. The current bull market has gained 102% in 1.4 years versus the average bull market gain of 179% over 5.8 years since 1950.


The S&P 500 Equal Weight Index, a proxy for the average stock, is up only 3% since early May and does not appear extended. This speaks to the rolling sector corrections that have been ongoing under the market's surface. However, the equal-weight index is now breaking out above its multi-month trading range, and we see further upside potential.
Stocks tend to add to gains by year end when posting strong returns through August, though pullbacks along the way are normal.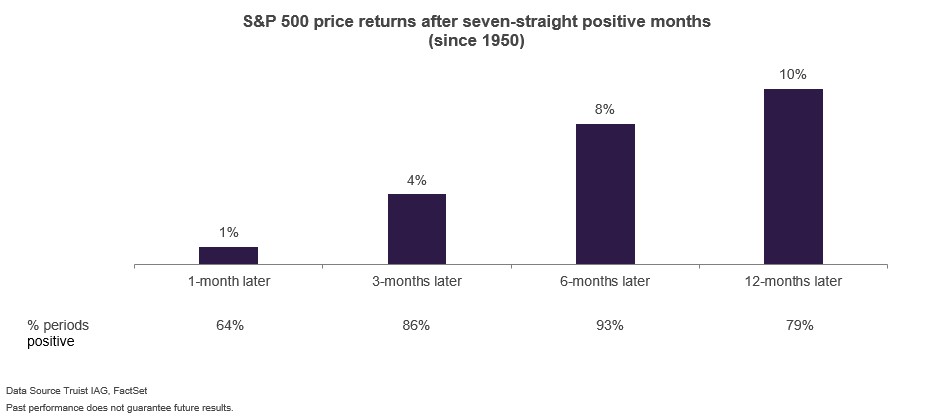 S&P 500 performance after 15%-plus gains through August
To read the publication in its entirety, select "Download PDF," below.