Stocks capped off a very strong year with the S&P 500 seeing a 10.6% price gain in the fourth quarter. While the magnitude of the return for 2021 was much better than average, what was remarkable is how closely the market's path followed the normal seasonal trends, despite various flare ups in COVID-19.
That is, after a strong move upwards earlier in the year, stocks pulled back into the fall before a strong year-end finish. While seasonal trends should not be used in a vacuum and often aren't this precise, they helped inform our view that investors should use market weakness that was seen going into October to position for strength into year end.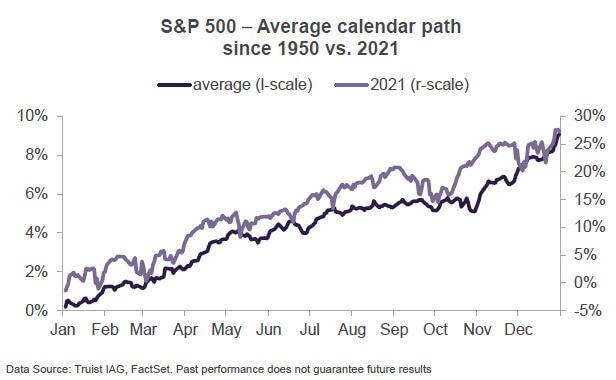 With the fourth quarter now behind us, we next look at whether year-end price momentum tends to carry over early into the new year.
Since 1950, we've seen the S&P 500 gain more than 10% in the fourth quarter 12 times. Stocks rose in the first quarter 11 out of 12 times, or 92% of the time, with an average return of 5%. The one negative outlier was the first quarter of 2002, when markets were in the midst of a bear market and still only declined 0.1%.
"While only one factor for investors to consider, strong market momentum to end one year tends to carry over into the first quarter of the next."
To read the publication in its entirety, please click the button below "Download PDF".
An accessible PDF allows users of adaptive technology to navigate and access PDF content. All fields are required unless otherwise noted.