At face value, the market has been resilient with the S&P 500 down less than 1% since banking concerns escalated in early March. However, this masks weakness below the market's surface.

Indeed, over this time period, mid-size and smaller companies are down 7% or more, and traditional, economically-sensitive sectors, such as financials, energy, materials, and real estate are all down by more than 5%.
These declines have been more than offset by growth sectors, such as technology, which have a much larger weighting in the S&P 500 alongside defensive sectors, like staples.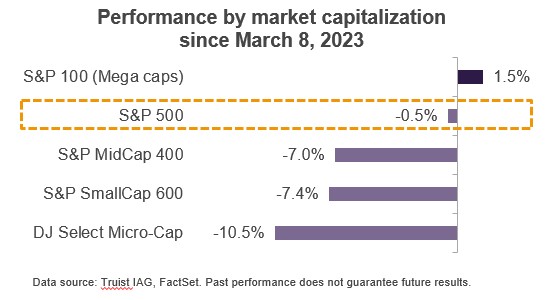 There's a growing disconnect between consensus earnings projections, which see S&P 500 profits rebounding to a record in the second half, and a consensus looking for a material economic slowdown later in the year.
Notably, the 2-year U.S. Treasury yield recently fell below the Federal funds rate by more than 100 basis points for the sixth time since 1989.
In all prior cases, the Fed cut rates during that month or the next.
Often this signal was a harbinger of recession.
That said, the Fed faces a conundrum this time as core inflation is running above 5% versus an average of 2.8% during the five prior periods—this may hold it back from being as aggressive relative to past periods.
Even if the Fed begins to cut rates later this year, as markets have started to price in, one only needs to look to 2001 or 2008 to see that this isn't necessarily a panacea for equity markets or the economy.
Our House View is that recession risks remain elevated in 2023, and we see stiff resistance around the 4100-4200 level for the S&P 500, which closed Friday at a level of 3970.
Bottom line
Although some investors may look at the strength seen in some of the popular market indices as a positive sign, weakness is evident below the surface, and macro risks are growing. In our view, investors are not being adequately compensated for above-average macro risks, as both stocks and high yield corporate bonds trade near average valuations. This serves to reinforce our current defensive posture.
To read the publication in its entirety, please click the button below "Download PDF".
An accessible PDF allows users of adaptive technology to navigate and access PDF content. All fields are required unless otherwise noted.