Markets have been trading in erratic fashion over recent days on the heels of rising Russia-Ukraine tensions. Indeed, U.S. stocks sold off late Friday and European markets, such as Germany and France, are down more than 2% this morning. We've also seen some signs of a flight to safety with gold prices at a multi-month high and oil prices at the highest level since 2014.
The Russo-Ukrainian crisis was one of the major geopolitical risks we discussed in our outlook coming into the year. This uncertainty, combined with ongoing investor angst surrounding the Federal Reserve (Fed) policy transition, is set to keep market volatility elevated relative to the serene environment seen over the past year.
That said, while it is typical to see geopolitical events lead to short-term market weakness, historically, these types of events tend not to have a lasting impact unless they lead to recession.
For example, when looking at a sample of major historical geopolitical/military events, the S&P 500 was higher 12 months later in nine of the 12 events we reviewed (see table on next page). The three instances where stocks were down a year later coincided with a recession. Our view remains that U.S. recession risks remain low. Indeed, given the peak in omicron, we expect economic growth to rebound headed into the second quarter. Pent-up demand for services remains high, cash levels of consumers and businesses remain robust, and the job market remains strong.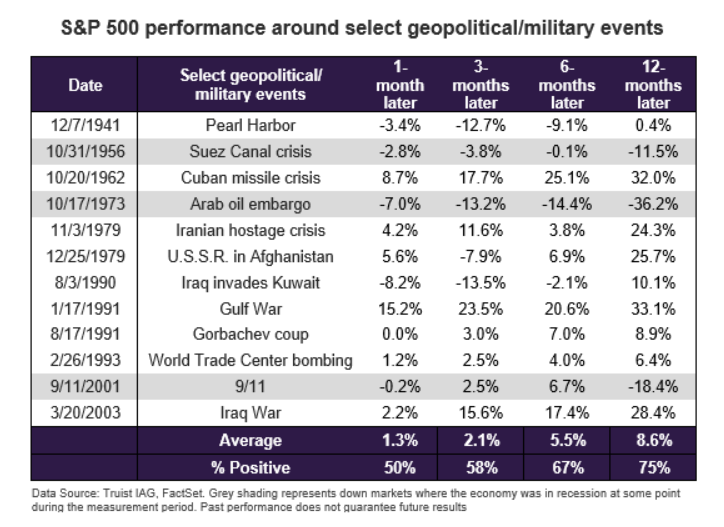 To read the publication in its entirety, please click the button below "Download PDF".
An accessible PDF allows users of adaptive technology to navigate and access PDF content. All fields are required unless otherwise noted.