After a sharp rally from the June lows, global markets have been under relentless selling pressure over recent weeks. The selling accelerated after Federal Reserve (Fed) Chair Powell's hawkish Jackson Hole speech last Friday alongside similar rhetoric from other central banks, including the European Central Bank. Subsequently, interest rates have rebounded sharply, placing downward pressure on equity valuations, and increasing investor concerns that the aggressive monetary policy stance will lead to a sharp economic slowdown.
The market went from pricing in a recession, down almost 24% at the June low, to fully embracing a soft landing and a Fed pivot on the subsequent 17% rebound. This left little room for error in a time of unusually wide outcomes. Therefore, we had been recommending investors use strength to trim equities as stocks moved towards the upper end of our estimated S&P 500 range of 4200-4300.
Macro challenges remain and are set to persist. This is not the time, in our view, to be aggressive on the buy side. Inflation remains elevated, and we are seeing the most aggressive global central bank tightening cycle in decades and rising recession risks. Still, on a short-term basis, the selloff appears to be getting overdone. We would be less apt to be trimming equities at current levels, at least not short term, based on several factors.
Over the past 12 days, the S&P 500 has declined 9%, which is the most extreme since the mid-June lows.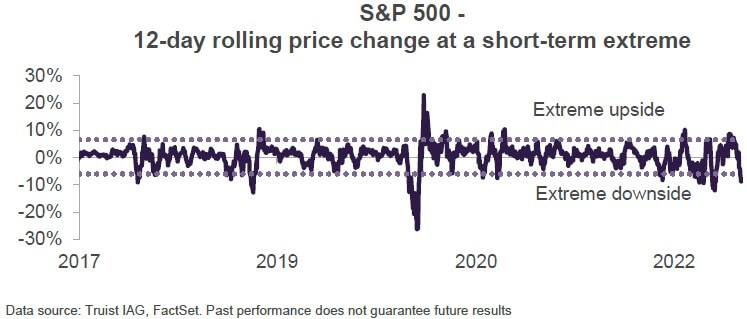 Similarly, with the sharp pullback from the highs, the percentage of stocks in the S&P 500 that are oversold, or stretched to the downside on a short-term basis, has moved to an extreme of about 80%.
To read the publication in its entirety, please click the button below "Download PDF".
An accessible PDF allows users of adaptive technology to navigate and access PDF content. All fields are required unless otherwise noted.