Xi Jinping officially announced his third term as President and tightened his grip by appointing loyalists to key positions. Consolidation of power under one ruler has proved to be disastrous for international investors, as recently seen in the case of Russian assets. We continue to recommend U.S. assets over emerging markets.
The new Chinese leadership team with no change at the top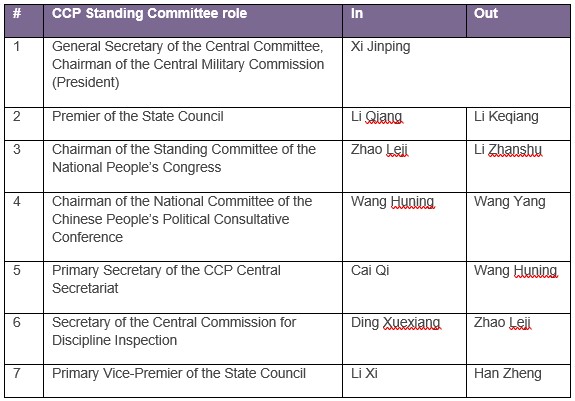 The Chinese Communist Party's (CCP) twice-a-decade meeting concluded with the announcement of the new leadership team. As expected, President Xi was elected as the General Secretary of the CCP and Chairman of the Central Military Commission for a third term.
President Xi's guiding ideology was gradually introduced beginning in 2012 and finally enshrined into the CCP's constitution in 2017 as "Xi Jinping's thoughts on socialism with Chinese characteristics for a new era." The 20th Party Congress further engrained this ideology into the operational framework and allowed Xi to handpick all loyalists to strategic positions for the next five years.  
Former Chinese President Hu Jintao, 79, escorted out unexpectedly
At the closing of the CCP's meeting, after the foreign press was allowed to observe and broadcast the ceremony, President Xi's immediate predecessor, Hu Jintao, was abruptly escorted out during what was supposed to be an exceptionally well-choreographed media event. Local news outlets heavily censored the commentary around the incident, and the official announcement lightly mentioned that the previous President left because "he was not feeling well." Jiang Zemin, 96, the only other living president of China, did not participate in the Congress.
To read the publication in its entirety, including our comprehensive view on what this means for global investors and consumers, please click the button below "Download PDF".
An accessible PDF allows users of adaptive technology to navigate and access PDF content. All fields are required unless otherwise noted.