Even with the recent downgrade, the International Monetary Fund's (IMF) global growth estimates of 3.2% for 2022 and 2.7% for 2023 are optimistic; we expect a sub-3% growth rate for 2022 and a sub-2% growth rate for 2023. The three main challenges that pressured 2022 economic activity are still lingering, namely (1) the Russian invasion of Ukraine, (2) high inflation and related higher global rates fueled by hawkish central banks, and (3) a slowdown in China.
In 2023, we expect that more than a third of the world economy will experience a recession, at least in technical terms (two consecutive quarters of negative GDP growth rates). The world's largest economy, the U.S., experienced a technical recession in 2022, with Q1 and Q2 growth rates in negative territory. Still, the slowdown in growth did not affect the strong positive momentum in employment, personal income, personal spending, or industrial production. The U.S. economy has the potential to achieve a similar outcome in 2023, where a slowdown in economic activity does not turn into an outright recession with the help of a strong labor market and strong U.S. consumer activity.
On the other hand, European economies may not show the same resilience as the U.S. economy. A looming energy crisis, depreciating local currencies, diminishing purchasing power, and political uncertainties could tip European economies into recession. Therefore, with the slowing global economic backdrop, we remain significantly underweight the international developed markets..
China, the world's second largest economy, is expected to grow above 4% if the zero-COVID policy is relaxed and the recent policy measures to contain the property sector's troubles from spreading to other industries achieve their goal.
We also remain significantly underweight emerging markets assets. The strong dollar, slowing Chinese growth rates, and geopolitical uncertainties surrounding Taiwan and the Russian invasion of Ukraine kept investors away from emerging markets equities and bonds. The tide is slowly turning, and a favorable outlook appears to be on the horizon, at least for short-term investors. However, looming recessionary pressures still cloud the outlook for longer-term investors.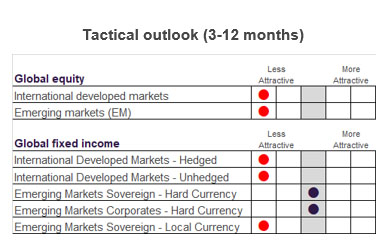 To read the publication in its entirety, including our comprehensive view on what this means for global investors and consumers, please click the button below "Download PDF".
An accessible PDF allows users of adaptive technology to navigate and access PDF content. All fields are required unless otherwise noted.