The International Monetary Fund (IMF) recently revised its 2023 global economic growth outlook upward to 2.9% from 2.7%. This estimate is contingent on (1) if the U.S. economy grows at 1.4%, almost a percent higher than our internal estimates, (2) if continental Europe escapes recession, which we expect to be very difficult, as manufacturing surveys still point to a contraction in many European countries, and (3) if China manages to grow its economy at 5.2%, versus the 3.0% it managed to eke out last year. In short, there are too many "ifs" in the IMF's forecasts.
Europe was fortunate this winter with milder-than-expected temperatures. Consequently, fears of natural gas shortages resulting in cascading manufacturing bottlenecks have subsided significantly. In the upcoming summer, Europe will again be forced to fill its gas storage as much as possible, but this time with much less gas from Russia, as well as potentially having to compete with China's renewed energy demand.

Despite the milder weather, a relatively hawkish European Central Bank, and subsiding inflation, we still expect that the uncertainties could tip European economies into recession.

While we recently reduced the magnitude of our underweight in recognition that the risks of a sudden manufacturing stop have receded, we remain underweight the international developed markets (IDM).
The recent balloon crisis is a reminder that U.S.-China relations are still on shaky footing, with a wide range of possible outcomes. U.S. Foreign secretary of state, Anthony Blinken's planned visit to Beijing has been called off, and China sharply rebuked the U.S. over its decision to shoot down the balloon. Even before the balloon crisis, there was little trust between the two countries.
We remain underweight emerging markets assets. Consensus assumes that China could deliver 5.1% growth rates in 2023 with the help of reopening efforts. We expect a lower growth rate unless China unleashes fiscal and monetary stimulus at the National People's Congress in March. 
Tactical outlook (3-12 months)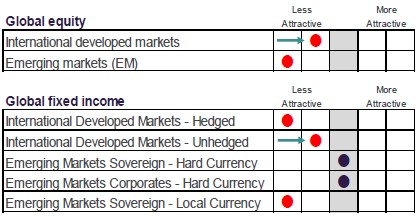 Global equity – International developed markets remain less attractive but are improving Emerging markets are less attractive. Global fixed income – International developed markets – hedged are less attractive Global fixed income – International developed markets – unhedged remain less attractive but are improving Emerging markets sovereign – hard currency is neutral Emerging markets corporates – hard currency is neutral Emerging markets sovereign – local currency is less attractive
To read the publication in its entirety, including our comprehensive view on what this means for global investors and consumers, please click the button below "Download PDF".
An accessible PDF allows users of adaptive technology to navigate and access PDF content. All fields are required unless otherwise noted.