The International Monetary Fund (IMF) recently revised its 2023 global economic growth outlook downward to 2.8% with risks of more downgrades emanating from the U.S. This revision is still above consensus estimates, including ours. We expect further downgrades to the IMF outlook through the rest of the year, including almost half a percentage point decrease for 2023. Worsening financial conditions and their impact on sentiment are a significant unknown for the year ahead. Recent banking troubles that surfaced in the U.S. will have some reverberations in global markets and the global economic outlook. It is too early to tell the magnitude of the economic impact as the authorities are feverishly working to manage possible contagion.
Despite the milder weather, the markets are dealing with a relatively hawkish European Central Bank, due to stubborn inflation in Europe. This coming summer, Europe will again need to fill its gas storage as much as possible, but this time with much less gas from Russia, as well as potentially having to compete with China's renewed energy demand.
We still expect that the uncertainties could tip European economies into recession.
While we recently reduced the magnitude of our underweight in recognition that the risks of a sudden manufacturing stop have receded, we remain underweight the international developed markets (IDM).
In China, at the National People's Congress (NPC), the outgoing Premier Li Keqiang set a 5% economic growth rate for 2023. The NPC also confirmed unanimously President Xi Jinping's third term presidency and Li Qiang replaced Li Keqiang as the Premier of the country. The newly appointed central bank governors and securities regulator signify a tighter grip of central decision making.
We remain underweight emerging markets assets. Consensus assumes that China could deliver 5.3% growth rates in 2023 with the help of reopening efforts. We expect a lower growth rate unless China unleashes fiscal and monetary stimulus.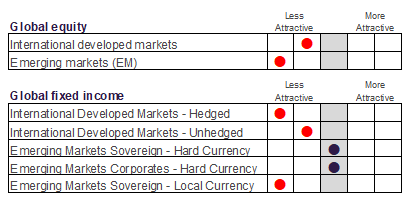 To read the publication in its entirety, including our comprehensive view on what this means for global investors and consumers, please click the button below "Download PDF".
An accessible PDF allows users of adaptive technology to navigate and access PDF content. All fields are required unless otherwise noted.