What happened
IMF downgraded the 2022 global economic outlook by almost a percent
Global economic prospects worsened not because of an invisible enemy, a virus causing a global pandemic, but a visible enemy, the Russian army which launched a full-scale invasion of Ukraine – a military conflict at a scale unseen since World War II. Accordingly, the International Monetary Fund (IMF) revised its global economic growth outlook downward for 2022 from 4.4% to 3.6%. Nevertheless, the recent downgrade is not nearly enough to match consensus estimates, including ours. We expect further downgrades to the IMF outlook as the year progresses.
The IMF downgraded the U.S. economy's outlook slightly by 0.3% percent. In contrast, Europe saw some significant downgrades, and the Chinese economic outlook was downgraded to 4.4% for 2022, noticeably below the Chinese government's official target of 5.5%. Russia's economy is expected to contract by double digits, and Ukraine's economic loss could reach close to 50%.
It is impossible to value the humanitarian cost of the Russo-Ukrainian crisis. From an economic perspective, sanctions intended to induce an end to hostilities will profoundly affect the global economic outlook and geopolitical landscape in the future. The current events are on a vicious path to becoming a multi-year conflict that could significantly weigh on world economic growth rates for a prolonged time.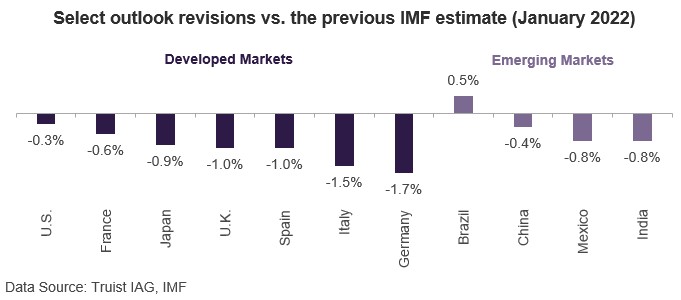 Our take
IMF is still too optimistic for 2022
The IMF's downgrade of the global outlook from 4.4% to 3.6% seems to be large enough to cover the effects of the recent events. However, we estimate the U.S., the world's largest economy, could grow 1.5% less than the IMF's forecast at 2.2% in 2022. There is also a risk of an early recession in European economies even if there is no outright sanction of Russian energy. Tighter financial conditions later in the year will have an effect; higher prices could also have a crowding-out effect for many low-income consumers. Overall, the global economy is likely to lose 2% of real economic growth, owing to Russian aggression in Ukraine.   
Global food inflation on the rise and leading to social unrest in some countries
Before the Russian hostilities in Ukraine, global food price increases were already unbearable for many countries on the lower-income scale. Ukraine is known as the "bread-basket" for the countries within its surrounding region as it was a leading exporter of vegetable oils, wheat, corn, potatoes, and carrots. The ongoing war has destroyed Ukraine's infrastructure, dislocated millions, and prevented farmers from tending their lands. Agricultural exports out of Ukraine could be less than half of the previous years or regrettably none if the current situation continues during the harvest season. Sanctions on Russia and Belarus, which combined are the world's top fertilizer producers, could have a devastating effect on crop yields globally. Sharp rises in food prices have already started to cause social unrest in countries like Peru and Sri Lanka, with much more to come later this year.         
Supply shocks
The pandemic already strained global supply chains with semiconductors, materials, labor shortages, and transportation-related bottlenecks. The Ukraine war added another dimension to the supply shocks by removing the availability of Russian energy, fertilizers, and industrial metals. Eventually, assuming there is some sort of cease-fire or peace agreement in Ukraine, tensions in global supply chains could be resolved relatively quickly.
Pandemic still forces millions to live under strict lockdown rules
At the start of the year, not expecting that Russia would invade Ukraine, we listed China's zero-Covid policy as the most critical risk to the global economy. The highly virulent omicron variant of the virus is causing havoc in the largest Chinese cities. Shanghai, a major city with a population of 25 million, has been living under strict lockdown rules for almost a month with no clear guidance on when mobility restrictions will end. The good news is that the mortality rate of the variant is very low compared to previous strains. If last summer provides any indication, the spread of the virus could be curtailed with warmer weather. 
To read the publication in its entirety, select "Download PDF," below.
An accessible PDF allows users of adaptive technology to navigate and access PDF content. All fields are required unless otherwise noted.