What happened
Slight downgrade to 2021 outlook but 2022 still looks solid
The International Monetary Fund (IMF) revised its global economic growth outlook slightly downward for 2021 from 6.0% to 5.9%. The U.S. economy's outlook was downgraded significantly by a full percent; whereas, Europe saw some upgrades, and a modestly lower expected economic growth rate in China detracted from the emerging economies' outlook (Table 1). The IMF highlighted the delta variant and restraints on global supply chains as the main reasons for the slight downgrade. Overall, they see rising inflation risks, especially in emerging market economies, causing reactionary monetary policy responses to curtail excess demand. In the meantime, 2022 estimates are unchanged at a healthy 4.9%, indicating that a portion of this year's demand should transfer into next year.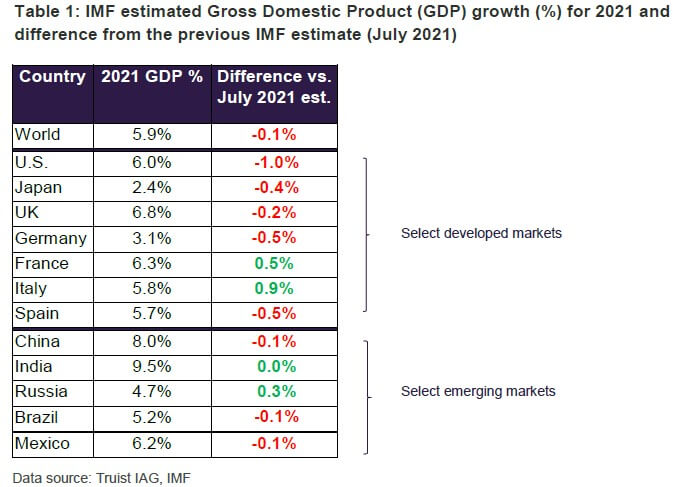 Our take
2021 almost done at record growth, 2022 looks promising with some risks
After the steep economic contraction in 2020, estimated to be around -3.1%, the IMF estimates that the world economy is on track to be at a record growth rate of 5.9%. According to the report, the world is set to experience back-to-back strong economic activity years, albeit at a percent slower next year.
Even though IMF's macro-economic projections moved marginally, headwinds for developed economies in the form of supply chain constraints and worsening pandemic conditions for the frontier economies recently became more noticeable. Conversely, commodity and energy-exporting countries enjoyed healthy gains, with demand for goods outpacing services.
Healthy external demand for European products continued, and some recovery in service-oriented countries like Italy and France was noticeable. In general, European growth rates lagged North American, leaving room for improvement in 2022, assuming that world travel could come back to pre-pandemic levels.
Inflation and tighter financing conditions could force emerging markets to deploy higher policy rates. In 2021, with inflation coming back and economies normalizing slowly, we had 65 rate hikes and nine rate cuts year-to-date. Most of the rate hikes happened in emerging market economies, as they are more susceptible to inflation. Brazil, Turkey, and Russia experienced multiple rate hikes, and more are expected. In developed markets, policy rates mostly stayed stable. Norway and New Zealand were the only major economies raising policy rates this year.
In terms of the pandemic, as we are not entirely out of the woods yet, heightened pandemic-related uncertainty is still an overhang. In advanced economies, vaccination rates reached 60% of the population, but most low-income countries would rely on herd immunity, with vaccination rates averaging only 4% so far.
To read the publication in its entirety, including our comprehensive view on what this means for global investors and consumers, please select the "Download PDF" button, below.
An accessible PDF allows users of adaptive technology to navigate and access PDF content. All fields are required unless otherwise noted.