The International Monetary Fund (IMF) revised its 2023 global economic growth outlook upward to 2.9% from 2.7%. The 2022 growth figure is projected to finalize at 3.4%, led by the robust U.S. and European growth rates in the last quarter of 2022. Notable changes since the October 2022 outlook release are (1) the U.S. 2023 growth rate has been upgraded to 1.4%, (2) other than the U.K., no recession is expected in Europe, (3) China's growth rate has been upgraded to 5.2%, (4) Russia's economy is expected to be more resilient, and lastly (5) in Mexico, benefits of the free trade agreement (known as USMCA) are noticeable via improved economic activity. We expect the IMF's optimistic or somewhat premature pivot is at risk for downgrades during the rest of the year.
The IMF upgraded the 2023 outlook
The IMF's upgraded 2023 global growth estimate of 2.9% is below last year's estimated growth rate of 3.4%, and also below the 3.8% historical average since 2000, excluding the volatile years of the pandemic (2020-21).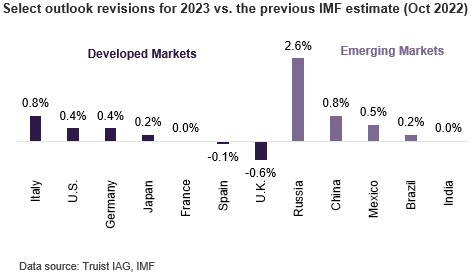 The upward revisions were supported by falling inflation and the eventual loosening of financial conditions. More importantly, stronger-than-expected consumer activity stemming from pent-up demand and healthy consumer balance sheets resulted in a resilient economic background. 
The IMF sees the glass half full
The IMF acknowledges that the risks to its estimates are tilted to the downside. This optimism emanates mainly from global inflation falling faster than anticipated and the pent-up demand, especially in China, boosting global economic confidence.
However, the downside risks to these optimistic expectations are numerous, starting with the war in Ukraine. Western partners of Ukraine began sending heavily armored vehicles, including tanks, to the battlefront and are contemplating delivering fighter jets as well. As a result, Russian aggression could escalate, especially if Ukrainian advances manage to recapture the Crimean Peninsula, Russia's apparent committed redline.
Secondly, Europe was fortunate this winter with milder-than-expected temperatures. The fear of natural gas shortages resulting in cascading manufacturing bottlenecks has subsided significantly. During the upcoming summertime, Europe will again be forced to fill storage as much as possible, but this time with much less gas from Russia, potentially leading to competition with China's renewed energy demand.          
To read the publication in its entirety, including our comprehensive view on what this means for global investors and consumers, please click the button below "Download PDF".
An accessible PDF allows users of adaptive technology to navigate and access PDF content. All fields are required unless otherwise noted.