Introduction
U.S. inflation and growth, which are snapping back from historically depressed levels, are now touching generational heights. Levels of monetary and fiscal stimulus that were unthinkable prior to the pandemic were critical to bringing the economy back online. U.S. yields have risen significantly since their 2020 lows as fear has given way to optimism.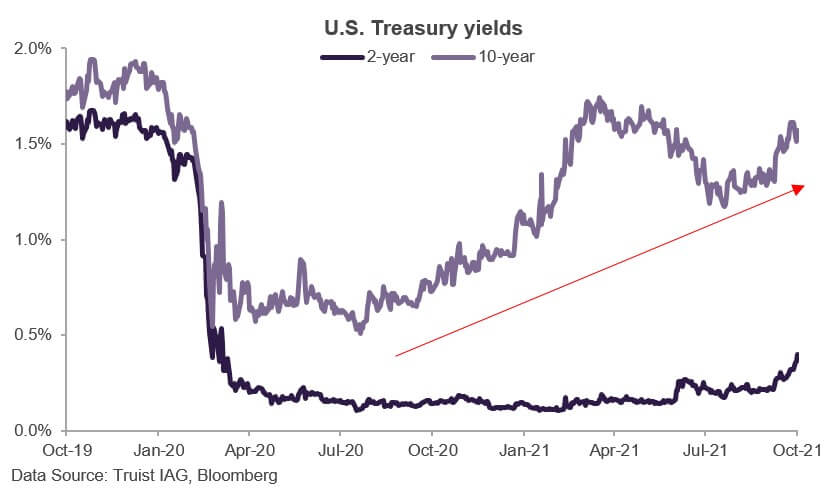 Treasury yields
However, as we look to 2022 and beyond, we believe one truth is growing increasingly self-evident: this environment will not last. Year-over-year inflation above 5%, double-digit growth of gross domestic product (GDP), and relentless policy accommodation cannot continue without a dramatic change in the long-term trends that impact economic growth, including population growth, demographics, and productivity. This begs the question: if each of these forces are expected to weaken, is it reasonable to expect yields to continue their ascent? Below, we try to square our outlook for falling inflation, slower growth, and less monetary policy accommodation with our expectation for higher U.S. yields.
Our take
Although we expect inflation to fall, growth to slow, and accommodation to wane, it is important to note that each will do so from historic levels. Furthermore, we believe U.S. yields remain too low, failing to fully express the strength of the ongoing recovery and inflation readings.
Inflation – On Friday, Federal Reserve (Fed) Chair Jerome Powell acknowledged that U.S. inflation is proving stickier than policymakers previously anticipated. Two days later, Treasury Secretary Janet Yellen stated that although she does not believe the Fed is losing its grip on inflation, she foresees it staying elevated well into 2022. Supply chain disruptions, upward wage pressure, and robust consumer demand are each playing a role. Hence, 2- and 5-year breakeven inflation rates—measures of the market's consensus inflation expectations over those time horizons—jumped to multi-decade highs.
U.S. fixed income markets are coming around to our view: inflation will prove stickier than the market is currently positioned for and will remain above the sub-2% average of the previous economic cycle. Shelter, including rents, wages, and energy costs are on the rise and will prove to be sources of longer-lasting inflation. With intermediate and long U.S. yields still trading below pre-pandemic levels, we believe current yields fail to sufficiently reflect inflation's near-term stickiness and upward trajectory.
Growth – Following the big gains achieved during the reopening quarters, economic growth is coming down to Earth. But it is worth reiterating: peak growth does not equal weak growth. 2021's summer slowdown should give way to stronger activity in the year ahead. In addition to robust consumer demand and solid employment trends, we expect some of the business and consumer demand delayed by the delta variant to be unleashed in 2022. More spending will shift from goods to services as COVID-19 trends improve and mobility restrictions are loosened. Furthermore, we expect global supply chains to eventually catch up, which will help manufacturers meet orders in a more timely fashion. Near-term growth will also be aided by further labor gains as continued demand requires more workers.
To read the publication in its entirety, including charts and support, please select the "Download PDF" button, below.
An accessible PDF allows users of adaptive technology to navigate and access PDF content. All fields are required unless otherwise noted.