The average yields offered by the highest-rated municipal (muni) bonds relative to like-maturity U.S. government yields, as indicated by the AAA-rated muni-to-U.S. Treasury ratio, remain extremely low. The 30-day SEC yield offered by the largest muni exchange-traded fund (iShares National Muni Bond ETF) is just 0.78%. That is well below 10-year U.S. Treasury yields, even after adjusting for munis' favorable tax treatment. Tax-exempt muni yields have been dragged down by several distinct forces:
Insatiable demand for high quality tax-exempt municipal debt
Insufficient new municipal bond supply
Sluggish secondary trading volume due to investor hesitancy to sell existing holdings
Uncertain individual and corporate tax outlook
Several of the forces weighing on muni yields appear firmly entrenched. This supports two conclusions. First, muni investors will need to remain patient and selective in new purchase activity over the near term, particularly in the 2- to 7-year maturity range. Second, investment grade munis look well positioned to outperform other core fixed income sectors in a rising rate environment.
Demand – Thus far, municipal bond mutual funds have attracted more than $89 billion in new assets in 2021, according to the Investment Company Institute. At this annualized pace, muni fund inflows would surpass 2019 record-setting levels by year end. We expect investors' robust appetite for munis to continue in light of improving credit fundamentals and as buyers seek out munis' favorable tax treatment. We are already seeing tax receipts and balance sheets improve among most cities and states as local economies reopen. The $350 billion in federal stimulus deployed to eligible states and localities offers an extra layer of substantial support. Also, the threat of Congress raising income taxes among the U.S.'s highest earners – who comprise a significant portion of muni demand – will continue to stoke enthusiasm for the tax shelter afforded by munis.
Supply – Although muni issuance has grown in 2021 following the pandemic's 2020 disruption, it has failed to keep pace with fervent demand. In September, new municipal debt issuance only delivered about half of the amount needed to meet reinvestment demand from maturing debt, let alone the amount of cash seeking new investment in muni securities. That is forcing more investors to use mutual funds and ETFs for access. The potential for greater infrastructure spending or even a federally-subsidized program to support new debt issuance could help reinvigorate new debt issuance – both taxable and tax-exempt. However, these initiatives are months away from potential passage and may look drastically different in their final form. Thus, in the near term, it appears the massive supply-demand imbalance will persist.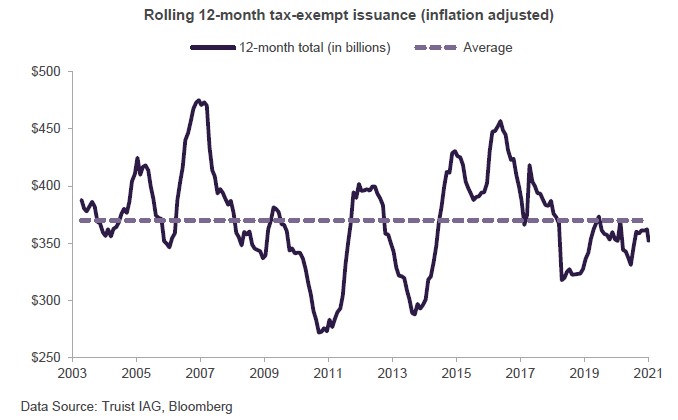 Munis should outperform in rising rate environment, despite rich valuations
For new investors, current muni valuations do not offer an attractive entry point for the AAA-rated tier relative to U.S. Treasuries. We recommend patience in new purchases in the highest-rated tier until a better supply environment and more tax clarity emerges.
The risk-reward dynamics are better among AA- to BBB-rated investment grade munis, but they require careful security selection and ongoing credit surveillance. The essential purpose revenue and general obligation sectors help provide some insulation from ongoing COVID-related disruptions. We are cautious toward issuers heavily reliant upon sales tax receipts, tourism dollars, and smaller healthcare systems and nursing facilities.
From a total return standpoint, we remain favorable toward investment grade munis in the near term. Given robust demand and muted new issuance expectations through year end, munis should outperform U.S. Treasuries, particularly within the context of the gradually rising rate environment we expect.
To read the publication in its entirety, including charts and support, please select "Download PDF," below.