Executive summary
Most U.S. fixed income yields between 1- and 5-year maturities have risen aggressively as a result of broadening inflationary pressures and the Federal Reserve's (Fed) more hawkish stance.


In this region of the curve, government, corporate, and municipalbonds currently capture a disproportionate amount of the available yield while offering protection from a rising rate environment.


For investors seeking to generate income from available cash, several fixed income sectors in the 1- to 5-year maturity range are offering their most compelling entry point in at least two years.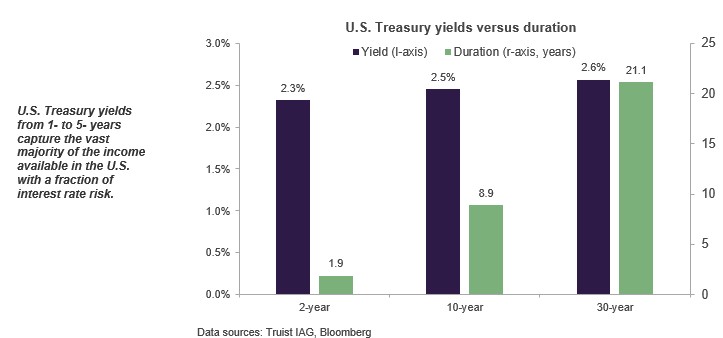 A Bar graph showing U.S. Treasury yields versus duration from 1- to 5- years capturing the vast majority of the income available in the U.S. with a fraction of interest rate risk. The graph shows yield vs. duration at the 2-year point – 2.3% yield to 1.9 duration; at the 10-year point – 2.5% yield to 8.9 duration; and at the 30-year point – 2.6% yield to 21.1 duration.
What happened
Since the beginning of 2022, a volatile mixture of inflationary pressures, central bank speculation, and long-term growth concerns are distorting the U.S. Treasury yield curve. Yields between 1- and 5-year maturities are trading at their highest levels in roughly three years, fueled higher by speculation the Fed will quickly raise policy rates throughout the rest of the year. Meanwhile, beyond five years, yields have risen far more gradually, expressing concern over the impact of tighter monetary policy, generationally high inflation, and intensified geopolitical tensions. This has created a very flat U.S. Treasury yield curve, where short yields are disproportionately high relative to longer-dated securities. This atypical – and somewhat concerning – shape is similarly affecting a number of traditional fixed income sectors, such as corporates and municipals.
As a result, the first five years of each sector's curve captures the lion's share of the income available in longer-dated maturities, but with significantly less sensitivity to rate volatility. It's also worth noting that yields between 1- and 5-year maturities are currently higher than the S&P 500's dividend yield for the first time since 2019. 
To read the publication in its entirety, including charts and support, please select the "Download PDF" button, below.

An accessible PDF allows users of adaptive technology to navigate and access PDF content. All fields are required unless otherwise noted.