Real yields, also known as inflation-adjusted yields, show the annualized return an investor receives after accounting for the effects of inflation. Today, real 10-year U.S. Treasury yields are at a 40-year low due to low nominal yields and high year-over-year inflation readings. Stated another way, investors are losing roughly $3 for every $100 invested in 10-year U.S. Treasuries after subtracting the most recent core Consumer Price Index (CPI) readings.
Currently, real 10-year yields sit at -3.1% (i.e., 1.25% 10-year yield minus 4.3% core CPI). Negative real yields are not unheard of, but they are rare. Over the past 50 years, real 10-year yields bottomed in negative territory just six times: 1975, 1979, 1980, 2012, 2016, 2020, and today. More importantly, real rates don't typically stay depressed for extended periods.
In the previous six instances where real U.S. yields bottomed in negative territory, real yields tended to rise rather sharply over the next 6-18 months. Higher real yields were achieved through a combination of moderating inflation and rising nominal yields. It is worth noting this aligns with our expectations that inflation will begin to cool in the months ahead and nominal yields will rise from current levels.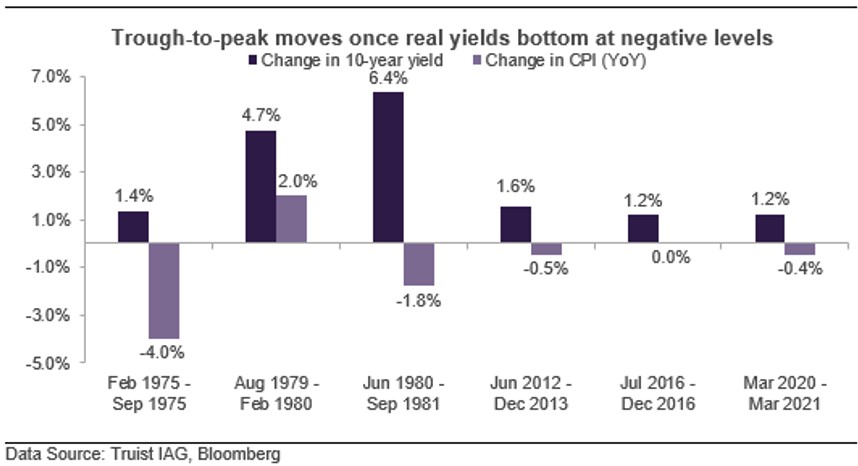 Despite very different growth environments, inflation trends, and Fed regimes over the past half-century, U.S. yields have tended to rise after periods when inflation-adjusted rates bottom in negative territory. Real yields should begin rising from their current lows due to moderating inflation and modestly higher nominal yields, validated by better economic growth and reduced Fed asset purchases later this year. This supports our below-benchmark duration bias within fixed income portfolios. We also expect to see rate volatility stay elevated given the uncertainties associated with the delta variant and expected shift in the Fed's policy stance.
To read the publication in its entirety, including charts and support, please select "Download PDF," below.