2022 muni outlook
Municipal bonds will likely face a challenging U.S. Treasury yield backdrop, a significant driver of muni yields. We expect the Federal Reserve's (Fed) tapering, elevated inflation, and strong economic growth to encourage higher U.S. Treasury yields, which should pull muni yields upward in sympathy. Robust demand, digestible new supply volumes, and favorable credit fundamentals should support relative outperformance versus U.S. Treasuries in 2022. However, an overall rising rate environment and tight muni-to-U.S. Treasury valuations to start the year provide some headwinds to munis' total return outlook.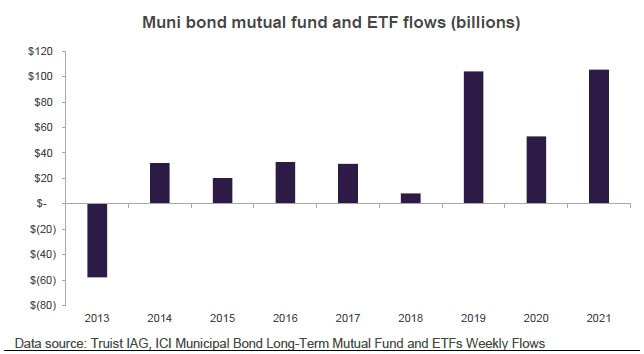 Muni tailwinds
Robust demand – Investors' formidable appetite for tax-exempt municipal bonds in 2021 appears poised to continue in the year ahead. Based on maturities, calls, and sinking funds scheduled during the 2022 calendar year, municipal bondholders will face roughly $350 billion in reinvestment needs. Generally, the vast majority of these funds are redeployed into the municipal market. This source of demand does not capture any new buyers entering the space. In 2021, over $100 billion in new investment assets flowed into muni mutual funds and exchange-traded funds, setting an all-time record. Many of the forces driving new interest in municipals remain intact – improving credit quality in the sector, strong issuer balance sheets as a result of large federal aid disbursements, and ongoing concerns that individual income taxes may rise (which make munis' favorable tax treatment more attractive). Lastly, long-term U.S. demographics are supportive of muni demand. The number of individuals aged 65 and older – which make up a large swath of municipal investors – is growing rapidly. The expanding pool of retirees looking for tax-exempt income will continue to support demand in 2022 and beyond.
Digestible supply – In the year ahead, we expect state and local municipalities to issue roughly $350 billion in new tax-exempt debt. That is a similar total to 2021's new supply volume. Based on the demand we expect, this level of new issuance will be fully digested by reinvestment activity alone. That would leave a great number of investors fighting over limited opportunities in the secondary market, driving muni prices higher.
There are three primary factors continuing to suppress new tax-exempt muni issuance, preventing better availability in 2022:
For one, muni issuers are using federal stimulus funds received over the past two years to pay for new capital and infrastructure projects. That is lowering the immediate need for issuers to tap into debt markets for financing.
Secondly, municipalities' revenues and balance sheets have exhibited a surprising degree of resilience since the onset of the pandemic, further reducing new supply volume. Forecasts that localities would need to quickly issue massive amounts of new debt to meet liquidity needs in the early days of the pandemic were unfounded.
Third, an increasing number of issuers are picking the taxable muni market as its financing vehicle of choice. Some muni issuers can retire outstanding tax-exempt debt and refinance at lower borrowing costs (i.e. "advance refunding") in the taxable muni market. Others are issuing new taxable debt to meet feverish demand from crossover and international buyers. In 2022, we expect between $100-$125 billion in new taxable muni issuance, or roughly 25% of total muni supply for the year. This will serve to limit the availability of traditional tax-exempt debt. 
To read the publication in its entirety, including charts and support, please select the "Download PDF" button, below.
An accessible PDF allows users of adaptive technology to navigate and access PDF content. All fields are required unless otherwise noted.