Executive summary
U.S. payrolls increased in September by 263,000, roughly in-line with the consensus of 250,000. The six-month average slipped to 360,300, the slowest six-month pace since the reopening period in 2020. The unemployment rate fell to 3.5%, back down to the low of this cycle, along with a decrease in the labor force participation rate.
Conditions are cooling. The industry results were solid, albeit less than the prior trend. That said, three major industry groups lost jobs during the month, which hasn't happened since November 2020. Meanwhile, average hourly earnings grew 5.0% from a year ago, the slowest year-over-year pace in nine months, but well-above the pre-pandemic rate of 3.0%. Moreover, there was a sizable increase in temporary workers, which is unusual during this time of year.
Thus, labor market conditions remain solid, which is good for individuals. But inflationary pressures aren't fading fast enough, preventing the Federal Reserve (Fed) from relaxing its aggressive stance for now. This report likely bolsters the case for another supersized three-quarter point (0.75%) rate hike at the next Fed meeting on November 2. Ultimately, the market believes the prospects of higher interest rates increase the likelihood of a recession or, at the very least, a further slowdown in economic activity. We agree.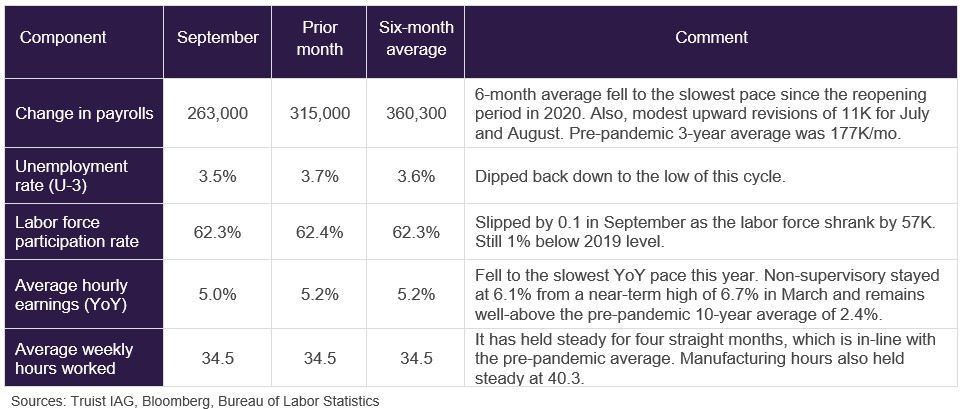 Unemployment, payroll and earnings data for the prior six months. 6-month payroll average fell to the slowest pace since the reopening period in 2020. Also, modest upward revisions of 11K for July and August. Pre-pandemic 3-year average was 177K/mo. Unemployment dipped back down to the low of this cycle with a 6-month average of 3.6%. Labor force participation slipped by 0.1 in September. Average year-over-year hourly earnings fell to the slowest pace this year. While average weekly hours worked has held steady for 4 months at just over 40 hrs.
A review of major industry trends
Private payrolls increased by 288,000 workers, but government payrolls fell by 25,000. Service-providing industries added 244,000 positions, while goods producers hired 44,000.
Within government, education was particularly weak. Local and state schools axed 28,800 positions combined in September, which was the second decline in the past four months. Meanwhile, private education added 14,000 during the month. Excluding education, government payrolls increased by 4,000 workers.
Financial activities payrolls fell by 8,000, the first decline in 15 months. It appeared to be concentrated within the insurance and banking-related segments, the latter of which has seen a sharp drop off in the mortgage business as interest rates have spiked.
Retail trade clipped 1,000 workers, though it is likely a seasonal shift as building supply & garden stores shed 6,100 positions in September. 
Meanwhile, temporary help services—categorized within professional & business services—added 27,200 in September, the largest monthly increase in 2022. That is unusual during this time of year. It is also an all-time high in the number of temp workers. 
To read the publication in its entirety, select "Download PDF," below.

An accessible PDF allows users of adaptive technology to navigate and access PDF content. All fields are required unless otherwise noted.