Executive summary
U.S. payrolls in November increased by 210,000—less than half of the 550,000 expected by the consensus. Aside from the headline job growth, the rest of the report was solid, punctuated by the unemployment rate, which dropped to 4.2% from 4.6%, and another uptick in the labor force participation rate. Additionally, wages continued to climb for rank & file employees, which leads to more economic growth.
Several factors contributed to the month-to-month swing, which we expected. Seasonality is a likely culprit, along with some industry-specific issues, which explain some of the job losses. For instance, 18,000 educational jobs were cut during November across local, state, and private schools. Some of the softer hiring is also related to the tension between a lack of available workers, workers holding out for higher wages, and the resistance by employers to pay those higher wages. 
Ultimately, this report supports our view that the U.S. economy remains on solid footing, which calls for continued above-trend economic growth heading into 2022.
A review of the major industry trends
Private payrolls increased by 235,000 workers in November, but government payrolls dropped by 25,000—its fourth straight monthly decline. Service-providing industries added 175,000 positions, while goods producers hired 60,000 workers. Leisure & hospitality and educational jobs remained the hotspots.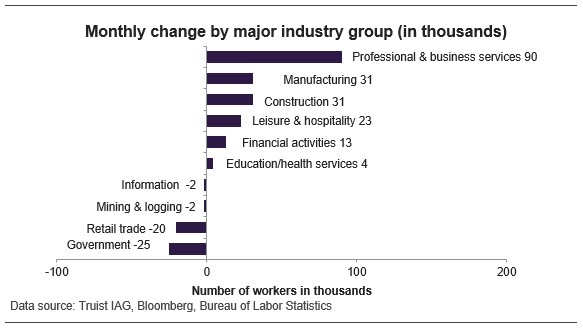 Table nominees

The leisure & hospitality industry group downshifted after averaging gains of 246,000 for the prior six months (May to October), especially at restaurants and bars. However, November has historically been a weak month for restaurants and bars. In fact, prior to 2020, restaurants and bars had shed workers every year since 2008. 
Educational positions continued to dwindle, down 18,000 during November, the third monthly decline in a row. Local and state schools shed 13,000 and 3,000, respectively, while private education sliced 2,000. We remain perplexed by this trend since nearly all U.S. schools are back in-person. Excluding education, government payrolls lost 9,000 workers in November, split between the state and local levels; federal added 2,000 during the month.
Retailers were uncharacteristically weak given that it is the holiday shopping season. The bulk of the losses were from clothing retailers, which are struggling with online competition and cut 17,700 workers. Meanwhile, transportation & warehousing added 49,700 positions in November, more than half of which were couriers & messengers.
To read the publication in its entirety, please select the "Download PDF" button, below.
An accessible PDF allows users of adaptive technology to navigate and access PDF content. All fields are required unless otherwise noted.