Executive summary
U.S. payrolls in February rose by 311,000, well-ahead of the consensus of 225,000. It was coupled with downward revisions to the prior two months, which subtracted 34,000 jobs, pushing the six-month average down to 336,300.
Yet, there were several clear signs of cooling upon digging a little deeper. The unemployment rate rose to 3.6%. Additionally, there was weakness on the industry level, with three shedding workers and one unchanged during February, which is nearly half of the 10 major industries. The monthly pace of average hourly earnings slipped to a 12-month low, and hours worked fell.
This is yet another report reinforcing the notion that the labor market is cooling but solid. We believe the Federal Reserve (Fed) will stay the course with a quarter-point (0.25%) rate hike on March 22 since there was enough cooling to fend off a 0.50% move. Still, a half-point move will ultimately hinge on the February inflation data. While there is a healthy debate as to how high the Fed takes rates during this cycle, multiple rate cuts in 2023 are becoming less likely.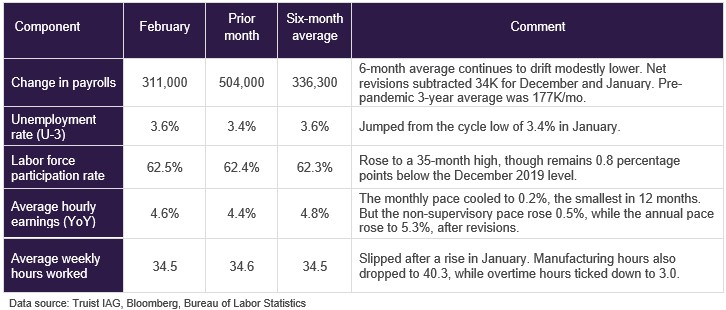 A review of major industry trends
Private payrolls increased by 265,000 workers and government payrolls rose by 46,000. Service-providing industries added 245,000 positions, while goods producers hired 20,000.
Leisure & hospitality continued to lead the job gains, adding 105,000 workers in February. More than two-thirds were by restaurants, which hired 69,900 and extends an impressive 26-month stretch of job gains.
Within retail trade, general merchandise payrolls added 39,000 in February, the third month in a row for a total of 66,000. That's after snapping an ugly seven-month losing streak, which lost 170,000 positions over that span.
After an outsized jumped of 124,000 in January, education added 30,000 positions during the month between private educational services (11,000) and government (19,000). However, state level education jobs fell by 4,000 in February, the third decline in six months.
Transportation firms continued to shed workers, slicing 22,000 positions during the month, mostly within trucking, couriers, and warehousing & storage businesses.
Additionally, the information segment sliced 25,000 workers, which was the third consecutive monthly decline. All of the subindustries — publishing, motion pictures & sound recording, broadcasting, telecommunications — cut payrolls in February.
Unemployment rate up, while wages cool and hours dip
The unemployment rate rose to 3.6% in February, the first increase in four months, from 3.4% in January, which was the lowest level for the current cycle and the lowest since May 1969.

The labor force added 419,000 in February, the third-straight monthly increase. The labor force participation rate also rose for the third month in a row, up by 0.1 to 62.5%, its highest level since March 2020. However, it remains 0.8 percentage points below the 2019 level.
To read the publication in its entirety, including supporting charts, select "Download PDF," below.
An accessible PDF allows users of adaptive technology to navigate and access PDF content. All fields are required unless otherwise noted.