Executive summary
U.S. payrolls in May increased by 390,000, beating the consensus of 320,000. Meanwhile, the unemployment rate held steady at 3.6%. These are not the hallmarks of a weak economy. 
That said, some of the internal components ticked lower, signaling that the overheating conditions within the labor market are cooling from a hard boil. Importantly, average hourly earnings slipped for the second consecutive month, though hours worked held steady.  
While this report bolsters our "no recession" call, inflationary pressures persist. Accordingly, the continued labor market strength underscores the need for the Federal Reserve (Fed) to continue its laser focus on inflation in the near term. Looking ahead, the modest cooling of the overheated conditions may provide the Fed enough cover to slow their pace later this year.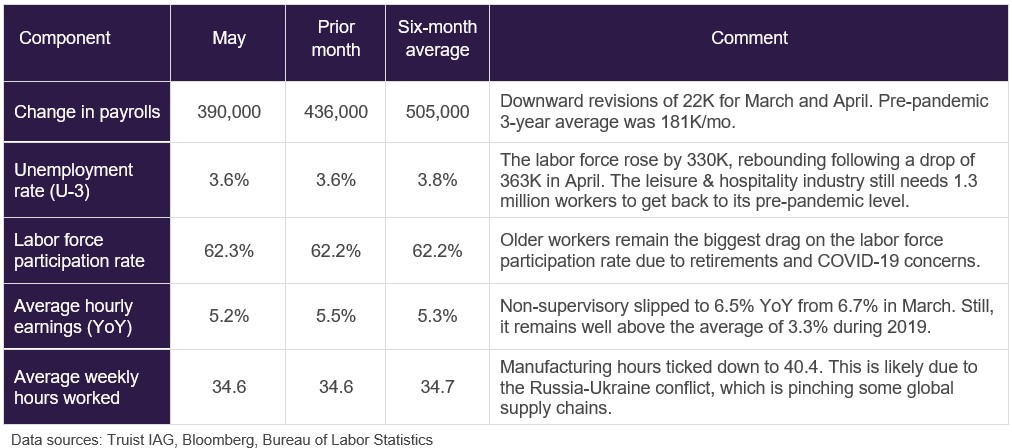 Chart describes changes in payroll in May 2022: Downward revisions of 22K for March and April. Pre-pandemic 3-year average was 181K/mo. Unemployment rate: The labor force rose by 330K, rebounding following a drop of 363K in April. The leisure & hospitality industry still needs 1.3 million workers to get back to its pre-pandemic level. Labor force participation rate: Older workers remain the biggest drag on the labor force participation rate due to retirements and COVID-19 concerns. Average hourly earnings: Non-supervisory slipped to 6.5% year-over-year from 6.7% in March. Still, it remains well above the average of 3.3% during 2019. Average weekly hours worked: Manufacturing hours ticked down to 40.4. This is likely due to the Russia-Ukraine conflict, which is pinching some global supply chains.
A review of the major industry trends
Private payrolls increased by 333,000 workers in May, while government payrolls rose by 57,000. Service-providing industries added 274,000 positions, while goods producers hired 59,000 workers.
Retail trade lost 61,000 jobs in May. That's the biggest single-month loss for a major industry in 13 months, when 78,000 positions were lost within professional & business services as temp help workers were dumped due to the second wave of COVID-19. More than half of the May losses (32,700) were at general merchandise stores, which includes Walmart and Target. Another 8,300 were at food & beverage stores, which includes grocery stores.
On the other side, the leisure & hospitality industry continued to strengthen, hiring 84,000 in May, and April was revised upward to 83,000 from the initially reported 78,000. More than half of the May gains were restaurant workers. Still, the leisure & hospitality industry remains 1.3 million workers below pre-pandemic levels.
Education payrolls (both government and private) rose by 83,000 in May, the eighth straight monthly increase and the largest in 13 months. The gains were split between state-level (36,000), local-level (16,000), and private (33,000).
Interestingly, construction added 36,000 workers in May, despite a significant pullback in residential building during the past three months. Nearly one-third (11,700) of the May gains were residential specialty contractors, which could be due to one of several reasons. It could be the scarcity of these specialty tradesman—thus, hiring while these hard-to-find workers are available rather than waiting for a specific project. Or they may be remodelers, which haven't seen the same pullback in demand experienced by home builders. Another third (11,300) were hired within heavy & civil engineering, which are bigger projects, including highway, street, and bridge construction. That was the most hired in this sub-industry since November 2021.
To read the publication in its entirety, select "Download PDF," below.

An accessible PDF allows users of adaptive technology to navigate and access PDF content. All fields are required unless otherwise noted.