Executive summary
Businesses appear to have shrugged off the impacts of the omicron variant. U.S. payrolls in January jumped 467,000, nearly four times the 125,000 expected by the consensus. Over 94% were within service-providing industries. It was coupled with an eye-popping 709,000 more jobs during December and November than previously reported.
The unemployment rate edged up to 4.0% from 3.9%, while the labor force participation rate breached 62% for the first time since the pandemic. Furthermore, wages reaccelerated, reflecting tight labor conditions. Yet, higher wages lead to more economic growth.
Ultimately, this report supports our view that the U.S. economy remains on solid footing, which calls for continued above-trend economic growth heading into 2022. Moreover, this report validates our view that the economy doesn't need as much support from Federal Reserve (Fed) monetary policy, which will begin to be removed in March.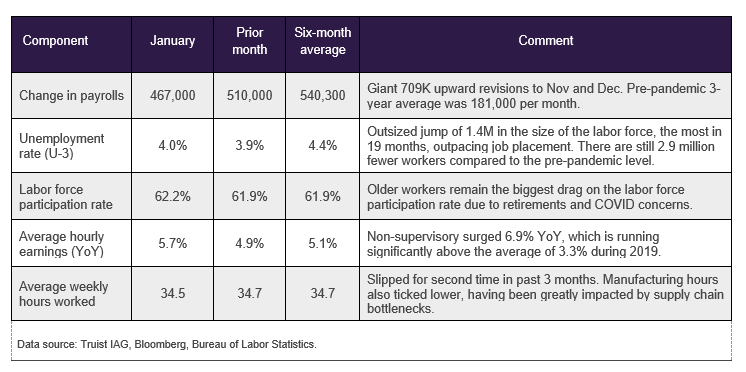 To read the publication in its entirety, select "Download PDF," below.

An accessible PDF allows users of adaptive technology to navigate and access PDF content. All fields are required unless otherwise noted.