What happened 
Stocks (S&P 500 Index) and bond yields have both moved sharply since the release of the December Federal Reserve (Fed) meeting minutes. The S&P 500 Index shed roughly 1.9% on Wednesday (1/5/2022), while the yield on the 10-year U.S. Treasury pushed up to over 1.7%, its highest level since April.
The meeting minutes discussed the Fed's decision to accelerate pace of tapering its monthly bond purchases, which doubled from a $15 billion to $30 billion reduction per month ($20 billion U.S. Treasuries and $10 billion mortgage-backed securities). If maintained, the faster pace would have monthly bond purchases concluding in March 2022. Fed board members also discussed a more aggressive timeline for the first rate hike in response to stronger near-term inflationary pressures as a result of supply-chain bottlenecks and the ongoing reopening of the U.S. economy.
The newest nugget within the meeting minutes was a discussion about the potential to begin reducing the size of the Fed's balance sheet relatively soon after beginning to raise interest rates (the federal funds target). The last time, the Fed waited almost two years after rate liftoff before gradually shrinking its holdings. 
Our take
While the December Fed's meeting minutes did talk about the possibility of earlier and faster rate hikes, from our standpoint, there's very little "new news" compared to the meeting statement and Fed Chair Jay Powell's post-meeting press conference.
Lest we ignore the obvious – this meeting was on December 15th, which was prior to the omicron spike (in the U.S.), which the Fed noted as a key variable that would alter its course of action. In the intervening three weeks, the omicron variant has dramatically spiked COVID-19 infections in the U.S. Surging new infections have prompted cascading delays and postponements throughout the U.S., including professional sports games being rescheduled. Outright cancellations have been rare, but have occurred--most notably, many Broadway productions.
Additionally, more than 2,200 K-12 schools announced closures starting Monday (1/3/22). Some extended winter break by a few days, while others will temporarily revert to remote-learning. Meanwhile, some will return to in-person when their breaks end.
Of course, kids being home due to school closures or remote-learning backs up into work life for working parents. Moreover, spiking infections are pushing back return-to-office (RTO) plans for many companies. Many have repeatedly postponed RTO plans, with several now saying they have delayed it indefinitely.
More importantly, prior to the omicron spike, inflation pressures were already coming down. Two sub-components of the Institute for Supply Management (ISM) Manufacturing Survey – Prices Paid Index and Backlog of Orders – peaked late last summer and declined sharply in December.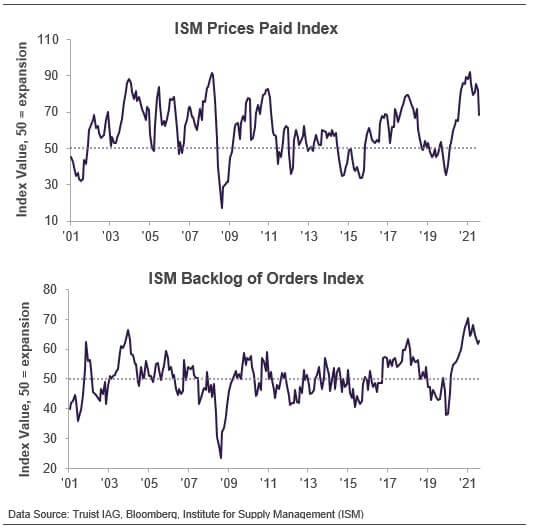 An accessible PDF allows users of adaptive technology to navigate and access PDF content. All fields are required unless otherwise noted.