Executive summary
U.S. payrolls in March added 431,000, and while it missed the consensus of 490,000, it was still very good. It was coupled with 95,000 more jobs during January and February than previously reported.
Once again, most of the additional component figures strengthened. The unemployment rate fell to 3.6% from 3.8%, while wages and the labor force participation rate both rose.
This level of job growth points to a strong economy, albeit overheating. It also clearly illustrates that the U.S. economy should power through the risks associated with the Russia-Ukraine conflict, including higher energy prices.
It also underscores our view that hotter inflation readings will linger for longer, but also reinforces our "no recession" call. Indeed, inflation-adjusted growth will be lower than we expected in '22, but we don't see the makings of a recession at present. Furthermore, the Federal Reserve (Fed) will remain laser focused on inflation, which equates to faster-than-expected rate hikes in '22.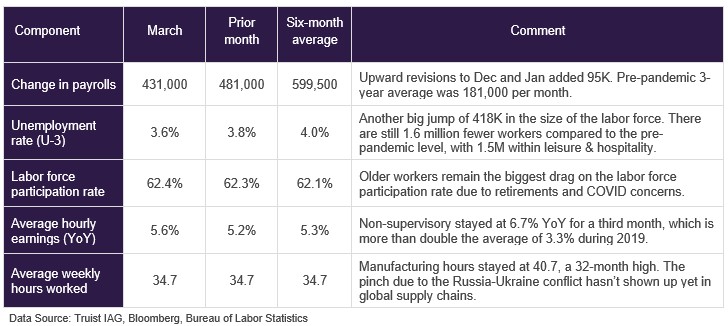 Table comparing jobs data such as payroll changes, unemployment, hourly earnings and hours work for March 2022, to the prior month and the six-month average.
A review of the major industry trends
Private payrolls increased by 426,000 workers in March, while government payrolls rose by 5,000. Service-providing industries added 366,000 positions, while goods producers hired 60,000 workers. More importantly, none of the major industry groups shed workers during the month.
The leisure & hospitality industry led the way, hiring 112,000. As impressive as that sounds, it is the fewest in 15 months. More than half (61,300) of the industry's total gain were restaurant workers.
The education/health care industry group added 53,000 during the month. However, the health care side was weaker, adding just 8,000 positions, the fewest in six months. Nursing care facilities continued to lose workers, down 10 of the last 12 months.
The government segment added just 5,000 as federal and state non-educational payrolls continued to shrink in March. Meanwhile, education payrolls (both government and private) have now increased for six straight months thanks to strong revisions in prior months.
To read the publication in its entirety, select "Download PDF," below.

An accessible PDF allows users of adaptive technology to navigate and access PDF content. All fields are required unless otherwise noted.