Executive summary
U.S. payrolls in March added 236,000, roughly in-line with the consensus of 230,000. The prior two months were revised downward, subtracting 17,000 jobs. The six-month average edged down to 314,500, which is still nearly twice the pre-pandemic 3-year average of 177,000 per month. Meanwhile, the unemployment rate ticked lower to 3.5%.
However, the signs of cooling are clear. For instance, four of the 10 major industry groups didn't add workers for the second-consecutive month. The monthly pace of average hourly earnings and hours worked fell as a result of the labor force participation rate rising for the fourth month in a row. That should put downward pressure on average hourly earnings and hours worked.
Furthermore, the labor market's cooling trend becomes more evident when coupled with other labor market data, such as the recent bump higher in weekly jobless claims, fewer job openings, and fewer workers quitting voluntarily. Accordingly, we believe this cooling trend removes the urgency for the Federal Reserve (Fed) to hike rates again at the May 3 meeting. That said, the Fed's decision will hinge on the broader inflation data and there are three key reports that will be released between now and then.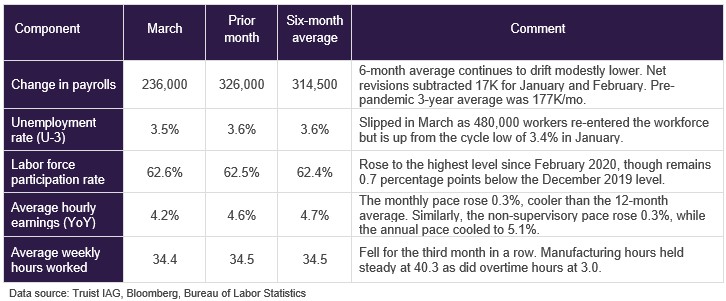 Change in payrolls: 6-month average continues to drift modestly lower. Net revisions subtracted 17K for January and February. Pre-pandemic 3-year average was 177K/mo Unemployment rate (U-3): Slipped in March as 480,000 workers re-entered the workforce but is up from the cycle low of 3.4% in January. Labor force participation rate: Rose to the highest level since February 2020, though remains 0.7 percentage points below the December 2019 level. Average hourly earnings (YoY): The monthly pace rose 0.3%, cooler than the 12-month average. Similarly, the non-supervisory pace rose 0.3%, while the annual pace cooled to 5.1%. Average weekly hours worked: Fell for the third month in a row. Manufacturing hours held steady at 40.3 as did overtime hours at 3.0.
A review of major trends
Private payrolls increased by 189,000 workers, which is the fewest in 27 months. Government payrolls rose by 47,000. Service-providing industries added 196,000 positions, but goods producers shed 7,000 workers.
Additionally, the number of voluntary part-time workers dropped by 650,000 combined in March and February. That's a very large decline in a two-month period and could indicate employers trimming part-time workers, which typically involves little or no severance benefits.
Leisure & hospitality continued to lead the job gains, adding 72,000 workers in March. Roughly 70% were by restaurants, which hired 50,300 to extend an impressive stretch of job gains to 27 months.
Education added 34,100 positions during the month between private educational services (15,000) and government (19,100). The government educational hiring was roughly one-third state jobs and two-thirds local.
Within professional & business services, temporary help services cut payrolls by 10,700, the third decline in the past five months. Nearly 95,000 workers have been let go over that span.
Retail trade shed 15,000 workers; however, general merchandise payrolls added 14,000 positions in March, the fourth-consecutive monthly increase, for a total of 87,000. That's after snapping an ugly seven-month losing streak during 2022, which lost 170,000 positions over that span.
Transportation payrolls appear to be stabilizing, adding 10,000 workers in March. That's after shedding 26,000 positions from November 2022 to February, mostly within trucking, couriers, and warehousing & storage businesses. Yet, warehousing & storage businesses cut 11,800 more workers in March.
To read the publication in its entirety, including supporting charts, select "Download PDF," below.
An accessible PDF allows users of adaptive technology to navigate and access PDF content. All fields are required unless otherwise noted.