Executive summary
U.S. payrolls in June increased by 372,000, handily beating the consensus of 265,000. Meanwhile, the unemployment rate held steady at 3.6% for a fourth straight month. We reiterate that these are not the hallmarks of a weak economy.
The June job gains were widespread. Yet, some of the internal components are signaling that the overheating conditions within the labor market continue to cool from the hard boil during 2021. For instance, average hourly earnings haven't increased year-over-year in four months, and hours worked have steadily fallen since peaking in the spring of 2021. But these point to a gradual cooling rather than a dramatic slowdown.

The overall labor market strength validates the Federal Reserve's (Fed) laser focus on inflation in the near term and front-end loading rate hikes. Accordingly, we expect the Fed to follow through with another three-quarter point (0.75%) rate hike when it meets late this month. Looking ahead, while that's good news for inflation, maintaining that gradual cooling pace in the broader economy will be tougher to achieve in our view.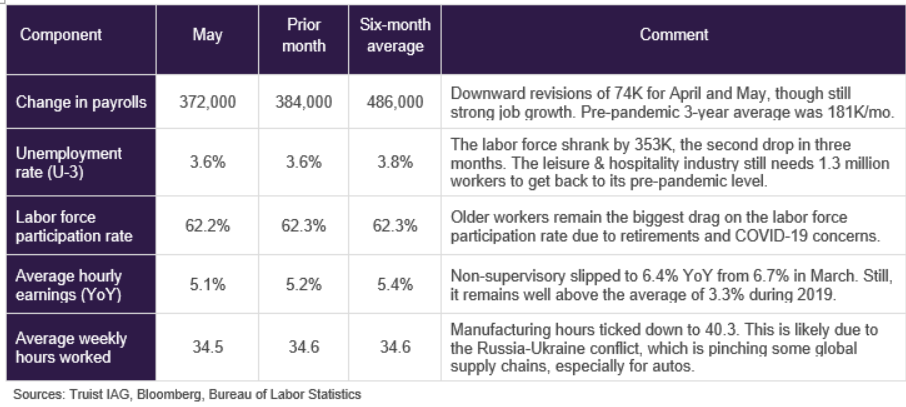 Chart describes changes in payroll in June 2022: Downward revisions of 74K for April and May, though still strong job growth. Pre-pandemic 3-year average was 181K/mo. Unemployment rate: The labor force shrank by 353K, the second drop in three months. The leisure & hospitality industry still needs 1.3 million workers to get back to its pre-pandemic level. Labor force participation rate: Older workers remain the biggest drag on the labor force participation rate due to retirements and COVID-19 concerns. Average hourly earnings: Non-supervisory slipped to 6.4% YoY from 6.7% in March. Still, it remains well above the average of 3.3% during 2019. Average weekly hours worked: Manufacturing hours ticked down to 40.3. This is likely due to the Russia-Ukraine conflict, which is pinching some global supply chains, especially for autos.
A review of the major industry trends
Body Copy Section 2: Private payrolls increased by 381,000 workers, which is a three-month high. However, government payrolls shrank by 9,000. Service-providing industries added 333,000 positions, while goods producers hired 48,000 workers.
Hiring within retail trade rebounded in June after shedding 43,700 jobs in May. Still, general merchandise stores, which accounted for more than three-quarters of the May job losses and includes the likes of Walmart and Target, clipped another 7,200 workers in June.
Payrolls in the leisure & hospitality industry remained steady, hiring 67,000 in June compared to 68,000 in May. Still, the leisure & hospitality industry remains 580,000 workers below pre-pandemic levels and the pace of hiring has slowed from this spring and winter.
Otherwise, employment showed little change over the month in other major industries, including education/health services and professional & business services. We're keeping a close eye on construction to watch for signs of further weakness, particularly after roughly four months of declining residential housing activity.
Wage growth and hours worked gradually slipping from very high levels in 2021
Wage growth increased as average hourly earnings rose 5.1% from a year ago, more than double the 2.4% average for the decade before the pandemic (2009 through 2019). But it hasn't increased in four months, down from 5.6% in March.
Similarly, average hourly earnings for rank & file workers (officially known as production & nonsupervisory employees) haven't increased in six months. It, too, remains significantly above its pre-pandemic 10-year average of 2.4%. This is important since production & nonsupervisory employees are the bulk of all employees and where most of the dramatic recent wage gains have been concentrated.
Hours worked—officially known as average weekly hours worked for all employees—have also gradually declined since 2021. It peaked at 35.0 hours in January 2021 and appears to be heading back towards the pre-pandemic 10-year average of 34.4. Within manufacturing, hours worked and overtime hours have already returned to their respective long-term averages.
To read the publication in its entirety, select "Download PDF," below.

An accessible PDF allows users of adaptive technology to navigate and access PDF content. All fields are required unless otherwise noted.