Executive summary
U.S. payrolls in December increased by 223,000, above the consensus of 203,000. Along with downward revisions to the prior two months, the six-month average fell to 307,000. The unemployment rate slipped down to 3.5%, as the labor force participation rate bumped upward.
More importantly, average hourly earnings cooled to a 16-month low, though it remains well-above the pre-pandemic rate. Additionally, there were more cracks visible at the industry level, including general merchandisers and temporary help.  
This is another goldilocks report, reinforcing the notion that the labor market is cooling but solid. Employment is going in the direction the Federal Reserve (Fed) wants, allowing it to taper the size and perhaps the pace of interest rate hikes needed to slow the economy. Given other receding inflationary pressures, we believe this report opens the door for the Fed to possibly stepdown the size of hikes to 0.25% in February (from 0.50% at the December meeting), though next week's inflation data will be a bigger factor. Lastly, investors will largely cheer this report on the possibility that the Fed could ease up their aggressive rate hikes.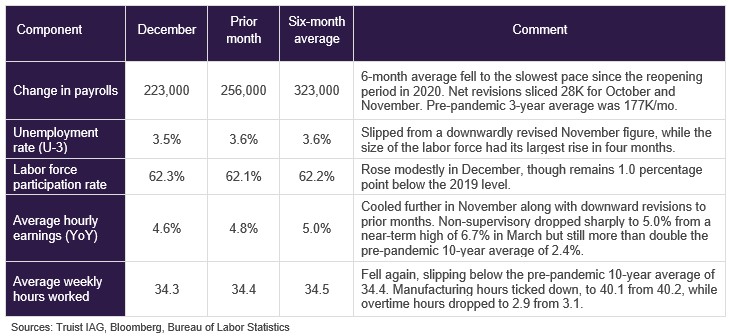 Change in payrolls: 6-month average fell to the slowest pace since the reopening period in 2020 Net revisions sliced 28k for October and November. Pre-pandemic 3-year average was 177k/mo. Unemployment rate (U-3) Slipped from a downwardly revised November figure, while the size of the labor force had its largest rise in four months. Labor force participation rate: Rose modestly in December, though remains 1.0 percentage point below the 2019 level. Average hourly earnings (YoY): Cooled further in November along with downward revisions to prior months. Non-supervisory dropped sharply to 5.0% from a near-term high of 6.7% in March but still more than double the pre-pandemic 10-year average of 2.4%. Average weekly hours worked: Fell again, slipping below the pre-pandemic 10-year average of 34.4. Manufacturing hours ticked down, to 40.1 from 40.2, while overtime hours dropped to 2.9 from 3.1.
A review of major industry trends

Private payrolls increased by 220,000 workers and government payrolls edged up by 3,000. Service-providing industries added 180,000 positions, while goods producers hired 40,000.

Most major industry groups saw modest job gains, but more cracks appeared in December.
Case in point: retail trade swung back to positive, up 9,000, after three straight monthly declines. Most segments had small payroll gains. Those were undercut by continued pain within general merchandise, electronics & appliances, and apparel stores, which lost 12,000 positions combined in December. All three segments have multi-month job loss streaks. For instance, electronics & appliance stores have cut workers for six straight months, while it's four in a row for general merchandisers and five of eight months for apparel stores.
Similarly, there were 35,000 fewer temporary help workers within the professional & business services industry. It was the fifth month in a row, with a cumulative total of -111,000.
Warehousing & storage businesses shed workers for the sixth straight month for a total of 65,900 positions. Couriers have lost 22,000 over that same span.
Meanwhile, leisure & hospitality added 67,000 workers in December, mostly at restaurants (26,300). Restaurant payrolls swelled by 622,000 in 2022. In fact, they added positions for an impressive 24 straight months, the longest stretch since a 51-month span from 2012 to late 2016.
Unemployment rate down to cycle low, while wages cool
The unemployment rate fell to 3.5% in December from a downwardly revised 3.6% in November. That matches the lowest level for the current cycle, which was touched in July and September of 2022, and the pre-pandemic cycle low.

The labor force added a rather large 439,000 in December, the most in four months and matches the second largest increase since January 2022. The labor force participation rate ticked up by 0.1 to 62.3%, matching its highest level in nine months. It has drifted lower since hitting 62.4% in March and remains 1.0 percentage point below the 2019 level.
To read the publication in its entirety, including supporting charts, select "Download PDF," below.
An accessible PDF allows users of adaptive technology to navigate and access PDF content. All fields are required unless otherwise noted.