Executive summary
U.S. payrolls increased in August by 315,000, roughly in-line with the consensus of 300,000. That was coupled with downward revisions of 107,000 for June and July, pulling the six-month average under 400,000, the slowest six-month pace since the reopening period in 2020.
Importantly, the unemployment rate rose to 3.7%, the first increase from the lows of this cycle, along with an increase in the labor force participation rate. Also, average hourly earnings were steady on a year-over-year basis for the third straight month. Meanwhile, the industry results were solid, albeit less than the prior trend, with gains in all the major industry groups.
These are more signs that the overheating conditions within the labor market continue to cool from the hard boil during 2021. Yet, labor market conditions remain solid, which sets up a Goldilocks scenario of not-too-hot, not-too-cool job growth, whereby allowing the Federal Reserve (Fed) to eventually relax its aggressive stance as inflation pressures fade. However, the debate of a half-point (0.50%) or three-quarter point (0.75%) rate hike at the next Fed meeting remains squarely on the table since there's a lot more data coming between now and the next Fed meeting on September 21 – most notably, another month of inflation data.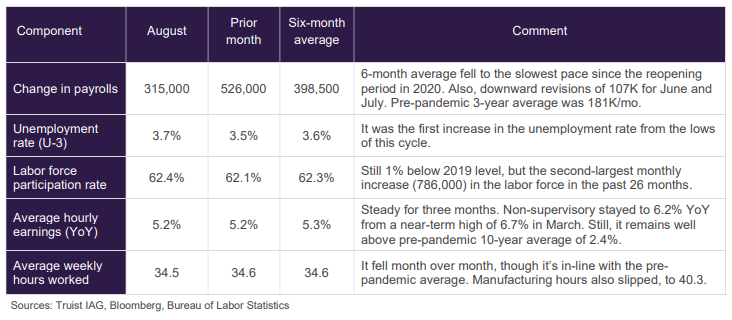 Chart describes changes in payroll in August 2022: 6-month average fell to the slowest pace since the reopening period in 2020. Also, downward revisions of 107K for June and July. Pre-pandemic 3-year average was 181K/mo; Unemployment rate: It was the first increase in the unemployment rate from the lows of this cycle; Labor force participation rate: Still 1% below 2019 level, but the second-largest monthly increase (786,000) in the labor force in the past 26 months; Average hourly earnings year-over-year: Steady for three months. Non-supervisory stayed to 6.2% YoY from a near-term high of 6.7% in March. Still, it remains well above pre-pandemic 10-year average of 2.4%: Average weekly hours worked: It fell month over month, though it's in-line with the pre-pandemic average. Manufacturing hours also slipped, to 40.3.
A review of the major industry trends
Private payrolls increased by 308,000 workers, the smallest increase in 16 months. Government payrolls rose by 7,000. Service-providing industries added 263,000 positions, while goods producers hired 69,000 workers for the second month in a row.
Within education/health services, health care remained a big job contributor in August, adding 61,500 jobs, the most of any sub-industry group in August by more than 20,000. This is a very good sign insofar as health care services account for roughly 25% of the total economy. Moreover, this segment has lagged the overall recovery, including three months of job losses during 2021.
However, education was particularly weak, both private and government. Local and state schools shed 14,000 and 5,000, respectively. Private education added 6,000, which was the fewest hired in 20 months. We remain perplexed by this development insofar as U.S. schools typically add positions during August. Excluding education, government payrolls increased by a solid 26,000 workers in August, mostly on the local level; federal lost 2,000 during the month.
Professional & business services also added 68,000. Computer-related and consulting services hired 27,500 combined, accounting for more than 40% of the industry's gains.
Retailers were uncharacteristically strong, adding 44,000 in August, the most in six months. More than a third (15,000) were hired by general merchandise stores, which garnered headlines in the spring with layoffs from several high-profile companies. Perhaps those firms cut more than necessary in the spring, or sales may be stronger than they anticipated. 
Hiring in the leisure & hospitality industry slowed considerably, adding 31,000 workers during the month, the fewest in 20 months by more than 10,000. That said, the industry typically begins to cutback hiring as the busy summer season draws to a close.
Otherwise, employment showed little change over the month in other major industries, including professional & business services. 
To read the publication in its entirety, select "Download PDF," below.

An accessible PDF allows users of adaptive technology to navigate and access PDF content. All fields are required unless otherwise noted.