Executive summary
U.S. economic growth jumped 6.9% on an annualized basis in the fourth quarter, handily beating the consensus expectation of 5.5%, and was dramatically faster than the third quarter pace of 2.3%. 
The rebuilding of business inventories, which we called out as a key driver in our 2022 Outlook – Positive yet realistic, has materialized. While inventories are not fully recovered, the important takeaway is that supply chains are clearly repairing. This will continue, helping bring down those eye-popping inflation readings. 
Additionally, overall demand is strong, and consumers remain on solid footing, supported by strong wage and income growth. Still, growth will remain choppy quarter to quarter. Accordingly, we expect weaker first quarter growth due to a series of winter storms as well as the omicron variant.
U.S. economy above the pre-pandemic level
Fourth quarter growth boosted the U.S. economy above $19.8 trillion, or 3.1% higher than the pre-pandemic level on a dollar basis. On a quarterly basis, growth should remain strong throughout 2022, but will naturally continue to moderate back towards the long-term trend.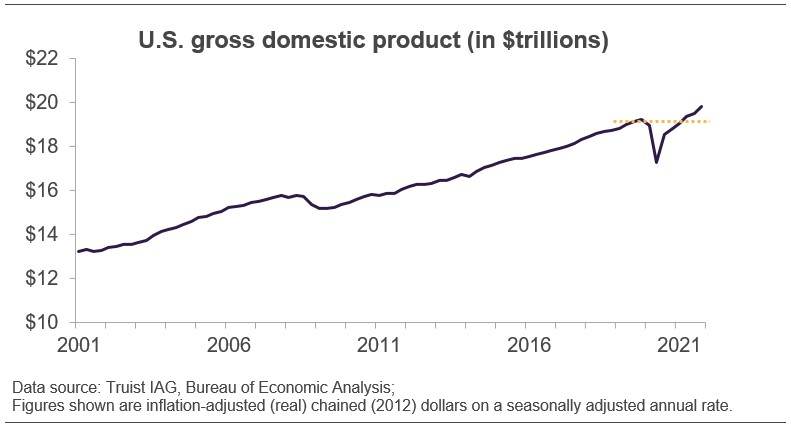 A review of the major categories
Consumer spending reaccelerated as the overall pace grew 3.3% compared to 2.0% during the third quarter. Total consumer spending topped $13.8 trillion, an increase of $110.3 billion quarter over quarter, and added 2.25 percentage points to overall GDP. Most of the reacceleration was because the drag from automotive purchases didn't have as big of a negative impact; it was "only" down 6.6% in the fourth quarter compared to 50.3% in the third quarter due to lack of new car inventory.
More importantly, the spending mix continued to shift back towards services, which rose 4.7% from the prior quarter. Still, spending remains more tilted towards goods rather than services compared to pre-pandemic trends, accounting for 39.5% and 60.5%, respectively. Typically, services comprise roughly 65% of consumer spending and currently remain about $30 billion below pre-pandemic levels. 
To read the publication in its entirety, select "Download PDF," below.
An accessible PDF allows users of adaptive technology to navigate and access PDF content. All fields are required unless otherwise noted.