Executive summary
The Federal Reserve (Fed) raised interest rates by a half point (0.50%), stepping down after four straight supersized hikes of 0.75%.
More importantly, the Fed's projections for the federal funds rate moved higher and doesn't include rate cuts next year. That's a mismatch from what markets expect for 2023 and will likely contribute to the ongoing volatility in yields.
Stocks traded lower during Chairman Powell's press conference, giving back the session's modest gains. Meanwhile, U.S. fixed income markets exhibited a relatively muted reaction to the rate decision and Powell's remarks. 
In totality, the Fed remains quite hawkish based on the large half point rate hike, the committee's economic projections, and Chair Powell's press conference. Our view remains that a U.S. recession is increasingly likely due to tightening financial conditions as dramatically higher interest rates place additional stress on consumers and businesses going forward. Accordingly, we continue to advocate for more defensive and up-in-quality portfolio positioning, across both equities and fixed income. 
Markets expect a peak at 4.8% in mid-2023, but falling to 4.4% by year-end '23.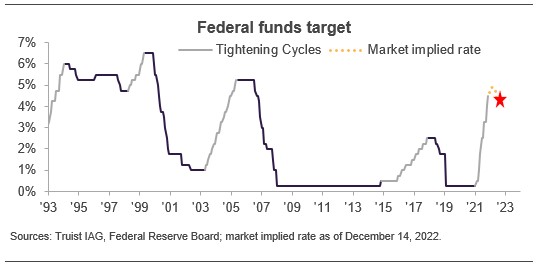 Mountain chart illustrating the up and down history of the Fed's tightening cycles for funds targets from 1993 into 2023.
A review of major industry trends
Private payrolls increased by 233,000 workers and government payrolls rose by 28,000. Service-providing industries added 200,000 positions, while goods producers hired 33,000.
Government swung to a gain of 28,000 from losses in the prior month. Moreover, government accounted for a large portion of the upward revision for September, going to -4,000 from the initially reported -25,000. Much of the upward revision was within education. Similarly, financial activities were revised upward for September, swinging to +1,000 from -8,000.
Otherwise, most of the industry trends have remained largely intact, albeit slower than their pace over the summer. That said, we remain pleasantly surprised by the lack of job losses with construction, especially given the massive freefall that residential housing has experienced. 

What happened
At its December rate-setting meeting, the Federal Open Market Committee (FOMC) unanimously agreed to increase its target range for the federal funds rate by a half point (0.50%) to a range of 4.25% to 4.50%. With today's move, the Fed has pushed the target rate up 4.25% in roughly 10 months from essentially zero.
Additionally, the FOMC released its December statement of economic projections, which sees slower economic growth and higher inflation next year compared to the September projections. More importantly, the so-called dot plots upped expectations for the federal funds rate for year-end 2023 compared to September's dots and doesn't include rate cuts next year.
During the post-meeting press conference, Chair Powell stressed that inflation needs to decline further, especially given continued strength in labor markets. He brushed aside questions regarding if the recent cooler inflation readings were enough to reduce the size of rate hikes, though Powell did state that rates were getting close to a sufficiently restrictive level.  In other words, he views the Fed as being closer to the end of rate hikes.
Powell also danced around several issues, including whether the committee's economic projections imply that a recession is now the Fed's base case. He conceded that increased unemployment was a painful, but likely outcome, and that there probably wasn't another option to fight inflation. Lastly, he reiterated that the Fed won't think about changing the 2% inflation goal.
To read the publication in its entirety, including supporting charts, select "Download PDF," below.
An accessible PDF allows users of adaptive technology to navigate and access PDF content. All fields are required unless otherwise noted.