Executive summary
As widely expected, the Federal Reserve (Fed) today raised interest rates by a half point, the second increase in this cycle. Additionally, the Fed took the next step in normalization, announcing that it will start reducing its balance sheet on June 1.
More importantly, Chair Powell stressed the Fed's nimbleness, opening the door to adjusting future moves based on incoming economic data. That was decidedly less hawkish than the last meeting. It also restores the maximum flexibility doctrine, making it easier to maneuver a "soft-ish" landing of the economy.
Today's market reaction was stark. Stocks immediately picked up on Powell's shift in tone, and a little good news goes a long way. The bond market reacted positively as well.
We maintain our view that the U.S. economy remains on solid footing and reiterate our stance that recession fears are overdone. We expect inflation to stay elevated compared to pre-pandemic levels, which the Fed will attempt to address by hiking rates. However, there are early signs of peak inflation, which would allow the Fed to throttle down rate increases later in 2022 and into 2023.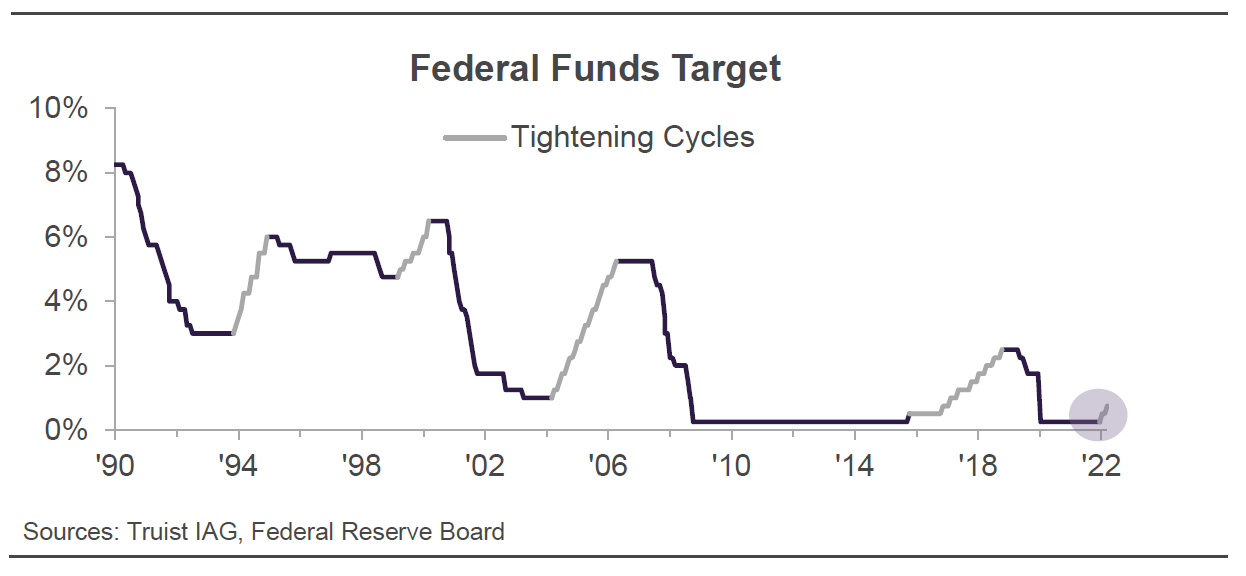 Table showing the Federal Funds target and tightening cycles
What happened
At its May rate-setting meeting, the Fed unanimously agreed to increase its target range for the federal funds rate by a half-point (0.50%) to a range of 0.75% to 1%. That was the large rate hike since May 2000 under Fed Chair Alan Greenspan.
The Fed also took the next step in the process of normalizing monetary policy, announcing that it will allow its bond holdings to decline. Beginning on June 1, U.S. Treasuries and mortgage-backed securities (MBS) holdings that mature will roll off the Fed's balance sheet at an initial monthly pace of $47.5 billion, which will ramp up to $95 billion per month over three months. (Amounts above those caps would be reinvested.)
During the post-meeting press conference, Chair Powell tactically shifted his tone, which was decidedly less hawkish than the last meeting. In response to a question regarding if the Fed was concerned about triggering a recession by raising interest rates too quickly, Chair Powell discussed the possibility of a "soft-ish" landing of the economy, a euphemism for raising without triggering a recession.
Powell said to expect half-point moves in the coming meetings. He also flatly stated that a 75-basis point increase is not something the rate-setting committee is actively considering, which was clearly a concern for markets. 
To read the publication in its entirety, select "Download PDF," below.

An accessible PDF allows users of adaptive technology to navigate and access PDF content. All fields are required unless otherwise noted.