Executive summary
The Federal Reserve (Fed) today raised interest rates by a quarter point, which Fed Chair Powell telegraphed in recent weeks. More importantly, the Fed signaled its steadfast commitment to fight inflation, with the pace of future moves ramping significantly higher this year. That was decidedly more hawkish than we anticipated.
Today's market reaction was somewhat mixed. Stocks dipped briefly, but quickly recovered to close near the high for the day. Short bond yields rose sharply in expectation of a faster pace of rate hikes.
Our view is the U.S. economy remains on solid footing and can withstand hotter inflation readings, including the fallout from the Russia-Ukraine conflict. While the concerns are legitimate and growth will take a hit, the recent recession panic appears to be overdone in our view. That said, the room for error in policy is small.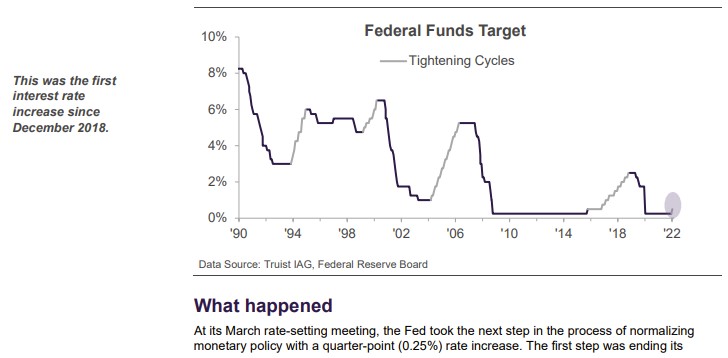 What happened
At its March rate-setting meeting, the Fed took the next step in the process of normalizing monetary policy with a quarter-point (0.25%) rate increase. The first step was ending its monthly bond purchases, which concluded earlier this month. It is notable that St. Louis Fed President James Bullard dissented, as he preferred a half-point (0.5%) hike now.
Going forward, the next step in normalization will be to start reducing its balance sheet in the coming months. During the press conference, Chair Powell mentioned that it could begin doing so as soon as the May meeting. He also hinted that half-point hikes were possible.
The big fireworks were within the latest economic projections as the committee essentially penciled in seven rate increases this year, up from three in the December projections. That equates to a quarter-point increase at each of the remaining six meetings in 2022.
Meanwhile, the median projection for the federal funds rate in 2023 moved up modestly to 2.8% and holds steady in 2024. This suggests the committee is pulling forward some of next year's rate hikes into 2022.
In our view, it is somewhat difficult to reconcile their growth forecast, which was unchanged in 2023 and 2024, with their inflation projections. Specifically, they project much hotter inflation at 4.3% in 2022, which drops down to 2.7% in 2023.
Our take

By penciling in seven rate hikes within its economic projections, the Fed signaled its steadfast commitment to fight inflation. During the post-meeting press conference, Chair Powell seemed to double-down on the strength of the economy, with which we agree. However, it was decidedly more hawkish than we anticipated, particularly given the extremely flat yield curve and widening credit spreads. Candidly, we were struck that Chair Powell never mentioned maximum flexibility, which had been his well-worn mantra to reference a data dependent methodology.
Indeed, recent recession fears are being stoked by a laundry list of issues; High inflation has been aggravated by higher crude oil prices. Markets are concerned that the Fed could "overtighten" financial conditions. The yield curve is flat. Sentiment is awful for both consumers and businesses. The Russia-Ukraine conflict certainly complicates matters since it will hit supply chains again, further contributing to inflation. However, indicators had been building strong momentum through February and demand appears to be holding up well in March (based on activity-based indicators like air travelers, dining reservations, weekly retail sales, etc.).
We have marked-down our 2022 growth estimates to roughly 3% year over year (from above 4% previously). While slower than 2021, it's hard to see enough sustained impact to derail the solid momentum for two consecutive quarters (using the layman's recession definition).

Inflation remains a big headwind. While energy prices spiked last week, they have just as quickly recoiled back down to roughly pre-invasion levels. Aside from energy, some of the big inflation drivers in 2021, such as used car prices and rents, have softened or seen outright declines month over month.

To read the publication in its entirety, select "Download PDF," below.

An accessible PDF allows users of adaptive technology to navigate and access PDF content. All fields are required unless otherwise noted.