Executive summary
The President has re-nominated Jerome (Jay) Powell as chairman of the Federal Reserve (Fed), and nominated Lael Brainard as vice chair. The moves provide much-needed continuity at the central bank and should soothe markets concerned about a dramatic shakeup at the Fed. Yet, the makeup of the Fed will continue to evolve in the coming months since there are three additional Board of Governors appointments available, along with two regional Fed presidents (Boston and Dallas). These nominations don't change our outlook for how quickly the Fed tapers its bond purchases nor eventually hikes interest rates.
What happened
President Biden re-nominated Jay Powell as Fed chairman, and nominated Dr. Lael Brainard, a current Fed Governor, as vice chair. Both will need to be confirmed by the Senate. Given that both are currently members of the Fed and have been previously been fully vetted, we don't anticipate any surprises with respect to their background checks, etc.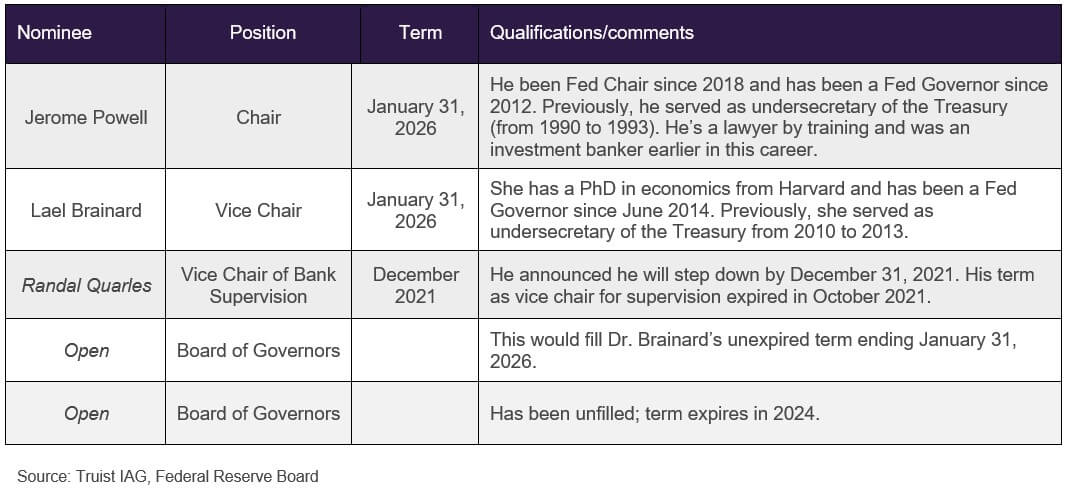 Table nominees
Nominees must get 60 votes in the Senate to confirm these appointments, which is further complicated by an evenly split Senate. In other words, literally one or two Senators could derail either nominee.
Their confirmation hearings will be challenging as both parties rightly debate the nominee's views and qualifications. Both Powell and Brainard are well qualified and hold mainstream views; thus, defending their previous positions should be relatively straightforward. However, it is a politically-charge environment, especially in the midst of negotiations to pass the Build Back Better plan, increase the debt ceiling, and stave off a government shutdown.
In counting votes, 68 of the 84 votes that confirmed Powell as chair in 2018 remain in the Senate. Dr. Brainard was confirmed by a narrow 61 to 31 vote in 2014.
Furthermore, there could be as many as three additional Board of Governors appointments. The first is the vice chair of bank supervision position, which was most recent held by current Fed Governor Randal Quarles. His term as vice chair of bank supervision expired in October and announced he would step down at the end of this year. The other is current Vice Chair Richard Clarida, whose term expires on January 31, 2022, while the remaining position has been open for several years. The White House has said it expects those additional Board of Governors nominations in early December.
To read the publication in its entirety, please select the "Download PDF" button, below.
An accessible PDF allows users of adaptive technology to navigate and access PDF content. All fields are required unless otherwise noted.