Executive summary
U.S. economic growth rose 2.0% on an annualized basis in the third quarter, dramatically slower than the second quarter pace of 6.7%. Supply chain bottlenecks within the automotive industry dented third quarter growth by a massive 2.4 percentage points. Excluding autos, third quarter gross domestic product (GDP) would have been a more palatable, albeit slower, 4.4%. Otherwise, growth cooled as a result of the delta variant.
The growth scare of the third quarter is now in the rear-view mirror. The softness due to the delta variant has already passed and a wide range of economic data activity has reaccelerated. More importantly, overall demand is strong and consumers remain on solid footing, supported by strong wage and income growth. But wage gains are a double-edged sword – they will drive economic growth modestly higher in the next year or more, but they push inflation higher as well.
Above the pre-pandemic level of GDP, but pace slowed
Third quarter growth was 2.0% on an annualized pace, missing consensus expectations of 2.6%, though estimates were roughly cut in half in the past month as weaker data trickled in. That compares to second quarter growth of 6.7%.
It took seven quarters for GDP to climb above the pre-pandemic level, but the pace of growth slowed during the third quarter.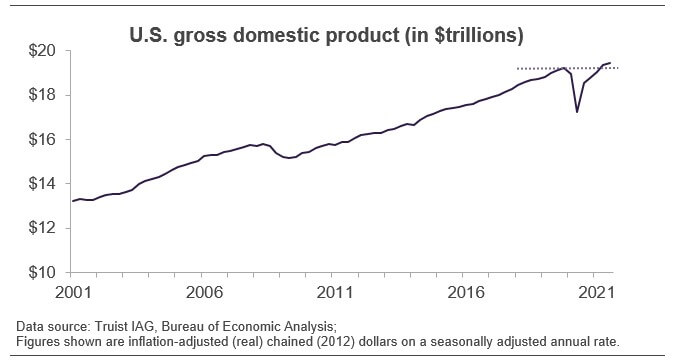 US gross domestic product (in $trillions)
A review of major categories
Consumer spending was mixed as the overall pace grew just 1.6%. Total consumer spending topped $13.7 trillion, an increase of $53.7 billion quarter over quarter, and added 1.09 percentage points to overall GDP. But goods spending fell by $134.3 billion, which was almost $10 billion larger than the COVID-19 lockdown quarter, down 9.2%. The vast majority was due to a 53.9% plunge in automotive purchases from the lack of new car inventory. Spending on home furnishings, including appliances, also declined 10.3%.
More importantly, the spending mix began to shift back towards services, which increased 7.9% from the prior quarter. Still, spending remains more tilted towards goods rather than services compared to pre-pandemic trends, accounting for 39.7% and 60.3%, respectively. Typically services comprise more than 65% of consumer spending and currently remains more than $134 billion below pre-pandemic levels.
To read the publication in its entirety, please select the "Download PDF" button, below.
An accessible PDF allows users of adaptive technology to navigate and access PDF content. All fields are required unless otherwise noted.